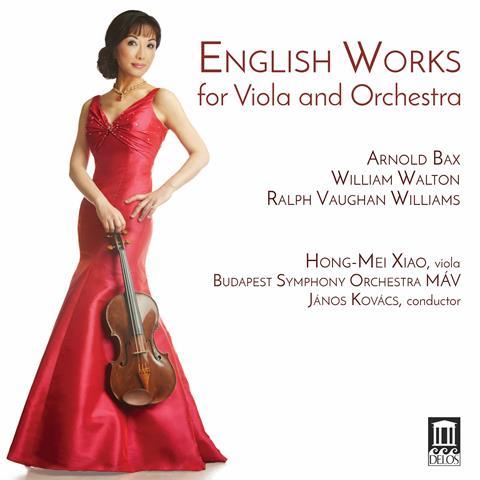 The Strad Issue: September 2018
Description: Rare British viola works get a welcome place in the spotlight
Musicians: Hong-Mei Xiao (viola), Budapest Symphony Orchestra MÁV/János Kovács
Works: BAX Phantasy; WALTON Viola Concerto; VAUGHAN WILLIAMS Suite
Catalogue Number: DELOS DE 3486
These pieces were all written for the English viola pioneer Lionel Tertis. Bax's Phantasy belongs in the 'Celtic Twilight' movement favoured by the composer. Its slow middle section is based on an actual Irish song, and the Celtic idiom is insinuated throughout in Bax's colourful orchestration and effective instrumental writing. Walton's Concerto is of course a repertoire staple, here played in its original, grittier orchestral garb, which underlines the piece's modernity (for its time and place) – Tertis initially rejected it before becoming an enthusiastic exponent. Contrastingly, Vaughan Williams's eight-movement Suite inhabits a more traditional sound world of bittersweet harmonies and good-humoured contentment.
Playing, most appropriately, an English instrument (made in 1790 in London by Jacob Ford), Hong-Mei Xiao unstintingly pours a seductively beautiful tone throughout the viola's register, helped by a recording balance that places her firmly in the spotlight. Aided and abetted by a generous acoustic, she takes consistently broad tempos that can occasionally hang fire, but her phrasing is always sensitive and she throws in some spot-on octave passages. Viola buffs will have a favourite among the many existing recordings of the Walton (the first, with Frederick Riddle and the LSO conducted by the composer, still has a strong claim to lie at the top of the pile), but Xiao's compilation provides a nice overview of the various compositional schools in vogue in the London of the 1920s and 30s.
CARLOS MARÍA SOLARE