Unmissable album of confident works from the composer's youth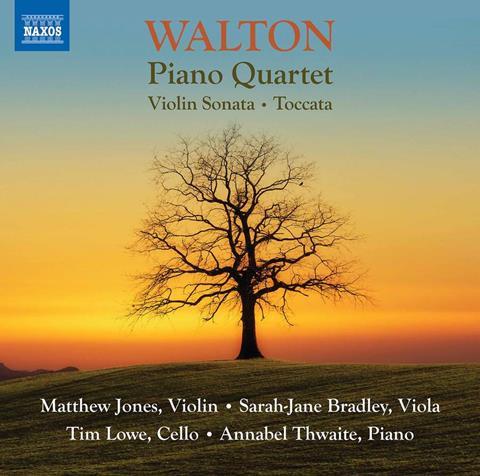 The Strad Issue: March 2021
Description: Unmissable album of confident works from the composer's youth
Musicians: Matthew Jones (violin) Sarah-Jane Bradley (viola) Tim Lowe (cello) Annabel Thwaite (piano)
Works: Walton: Piano Quartet; Toccata; Two Pieces for violin and piano; Violin Sonata
Catalogue number: NAXOS 8.573892
What an angry young man William Walton must have been, and what excellent company, bristling with talent, ideas and a bumptious confidence that took him from Oldham to Oxford, where library scores of Schoenberg and Bartók struck him like a thunderbolt. Already, though, the teenage Piano Quartet demonstrates prodigious assurance, even in the much-revised finale (Walton continued to struggle with the ending) and, led by Matthew Jones, these performers conclusively establish the individuality of his early works.
Compared with these players, even the team of experienced Walton performers on Meridian, led by the composer and pianist John McCabe, sounds hectic and relentless in the Quartet's scherzo, which opens out into a big nobilmente melody that is one of the few giveaways on this album of the composer's Englishness. From four years later, the Toccata for violin and piano is a cadenza-rhapsody of intense and fully formed personality unconfined by national borders (or the niceties of violinistic idiom), to which Jones and his pianist wife Annabel Thwaite bring terrific energy and conviction.
In an extended booklet note on the Naxos website, Jones discusses the character of the Violin Sonata as revealed through the autograph score and recent manuscript edition, and accordingly lays off the intense vibrato of Menuhin's recording. His rubato also imparts an improvisatory freedom and Szymanowski-like rapture to the first movement that connects it back to the Toccata, though (as with much of Walton's later work) there is a pervasive tone of melancholy lyricism which has muted or at least stifled the bracing contrasts of the earlier piece. Taken in sum, however, the album is essential listening for Waltonians old and new.
PETER QUANTRILL