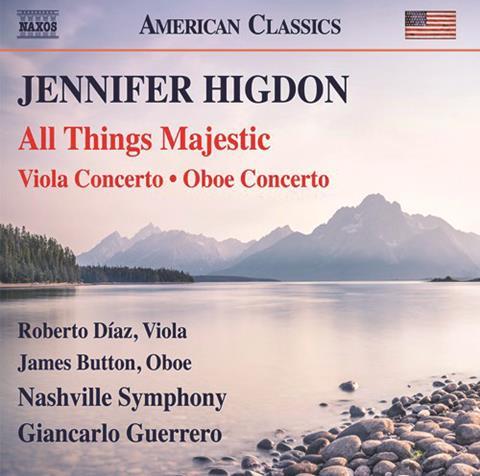 The Strad Issue: October 2017
Description: Debut on disc for a new American viola concerto
Musicians: Roberto Díaz (viola) James Button (oboe) Nashville Symphony/Giancarlo Guerrero
Composer: Jennifer Higdon
Catalogue Number: NAXOS 8.559823
Jennifer Higdon, teacher of composition at the Curtis Institute of Music, wrote her Viola Concerto in 2014 for Roberto Díaz, the institution's president. Its three movements progress from slow through fast to even faster, making for a highly effective concert item. The concerto begins with a yearning melody that undulates its way through the viola's register, accompanied by continually changing orchestral colours before ending on a solitary low C of the soloist. There follow a swinging scherzo and a finale that begins with a slow introduction before going on to a jazzy main section. Performing on the 1697 'Primrose' Amati, Díaz makes a subtly modulated, perfectly focused sound throughout the instrument's range.
Together with conductor Giancarlo Guerrero, he holds the long, occasionally rambling opening movement convincingly together and negotiates the finale's top-speed, high-wire act with the greatest aplomb, making an excellent case for this much-needed addition to the viola's concerto repertoire. Higdon's Oboe Concerto from 2005 is in one, multi-section movement. James Button and his Nashville Symphony colleagues are obviously on the appropriate wavelength for what is effectively chamber music writ large, the soloist variously paired with the different instrumental groups or their principals. The kaleidoscopic variety of All Things Majestic, a four-movement suite inspired by the breathtaking landscapes of the Teton mountain range, showcases the orchestra's collective virtuosity, vividly recorded on its home turf. CARLOS MARÍA SOLARE