Musical adventures from a New York piano trio that yield evocative moments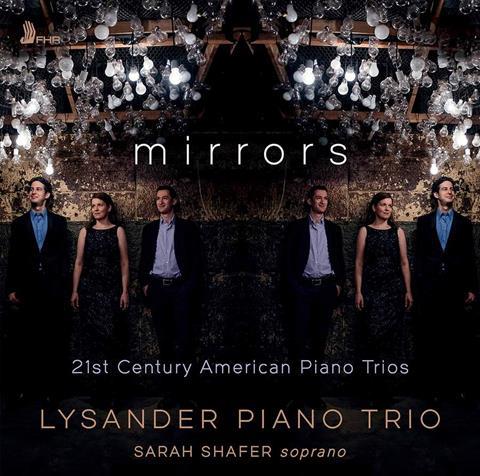 The Strad Issue: March 2021
Description: Musical adventures from a New York piano trio that yield evocative moments
Musicians: Lysander Piano Trio, Sarah Shafer (soprano)
Works: Cohen: Around the Cauldron. Moya: Ghostwritten Variations. Higdon: Love Sweet. Cooper: An den Wassern zu Babel. Ciupiński: The Black Mirror. Belimova: Titania and Her Suite
Catalogue number: FIRST HAND RECORDS FHR111
A diet of Haydn, Schubert and Ravel evidently doesn't satisfy the adventurous appetites of the New York-based Lysander Trio, who have recorded six commissioned pieces to celebrate their tenth birthday. Shortest and sweetest of them is Titania and her Suite by Sofia Belimova; a glittering two-minute sketch of nocturnal magic with not a note wasted. By way of Shakespearean contrast, the camped-up slides, Gothic sul ponticello and circular motion (stirring the pot?) of Gilad Cohen's Around the Cauldron outstay their welcome some way before the end of its seven brief movements.
Most substantial, offering both immediate appeal and lasting pleasure, is Love Sweet, Jennifer Higdon's setting of five Sapphic love poems by Amy Lowell. Both poetry and music access realms of sudden rapture and private delight, though Sarah Shafer's distance from the microphone (or is it her diction?) requires study of the printed text. Though no words are sung in William David Cooper's instrumental translation of Psalm 137 (By the waters of Babylon, or more specifically Luther's German version), the booklet should also have printed them to aid appreciation of his naturalistic, verse-by-verse setting.
If the six not-so-disparate works are linked, it is through limpid, near-tonal or neo-tonal evocations of other worlds, to most haunting effect in the Ghostwritten Variations of Reinaldo Moya (unrelated to Beethoven's trio) and The Black Mirror by Jakub Ciupiński, whose haunted minimalism brings the album to an unquiet close. Each shade and flicker is precisely registered by both musicians and engineers though there is (as with every piece here save Higdon's) a lingering sense of the music serving some illustrative purpose, like a soundtrack to an unmade movie.
PETER QUANTRILL