Outstanding playing in intense, heartfelt performances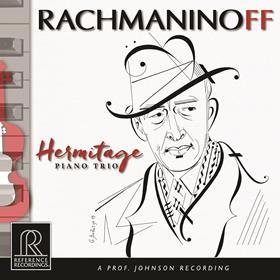 The Strad Issue: October 2019
Description: Outstanding playing in intense, heartfelt performances
Musicians: Hermitage Piano Trio
Works: RACHMANINOFF Piano Trios nos.1 & 2; Vocalise
Catalogue Number: REFERENCE RECORDINGS 
RR-147 (SACD/CD hybrid)
Rachmaninoff's piano trios are relatively early works composed before the profound loss of creative drive inflicted by the near-catastrophic premiere of his First Symphony in 1897. Both are deeply moving, heartfelt utterances, the Second (1893) being effectively a requiem–elegy for his esteemed teacher Nikolai Zverev and most distinguished champion Tchaikovsky, who passed away unexpectedly during the creative process.
Striking the right balance between interpretative nobility and expressive candour is particularly challenging in music of such claustrophobic intensity, yet the Hermitage Piano Trio – pianist Ilya Kazantsev, violinist Misha Keylin and cellist Sergey Antonov – proves fully equal to the task, ensuring that no emotional stone is left unturned without resorting to mere hysteria. Out of countless examples, the very opening of the Second Trio conjures up an indelible image of distant tolling bells through which wisps of string sound emerge through the rolling mists. The charismatic impact of the all-encompassing Svetlanov–Kogan–Luzanov recording (Melodiya) remains a must-hear, but for a coupling of both trios the Hermitage players now take pride of place alongside the Trifonov–Kremer–Dirvanauskaitė team on DG.
Exemplary annotations from Victor and Marina A. Ledin (who also produced the recording), a delectable encore in the form of Julius Conus's 1928 transcription of the Vocalise and atmospheric yet tactile recorded sound (which sounds especially alluring in SACD) round out an outstanding release.
JULIAN HAYLOCK