Plenty of heart on display from Russians playing the music of their homeland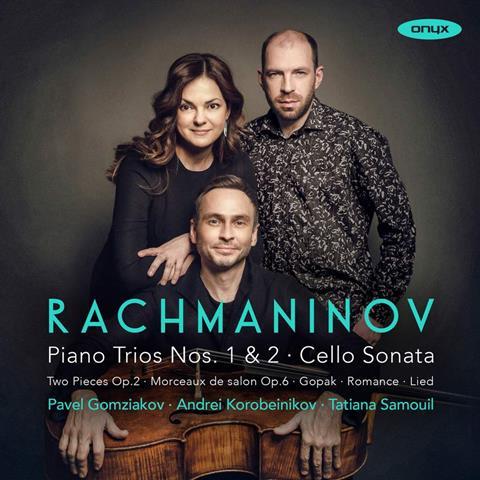 The Strad Issue: February 2023
Description: Plenty of heart on display from Russians playing the music of their homeland
Musicians: Tatiana Samouil (violin) Pavel Gomziakov (cello) Andrei Korobeinikov (piano)
Works: Rachmaninoff: Piano Trios: no.1 in G minor, no.2 in D minor; Cello Sonata; Two Pieces op.2 etc.
Catalogue number: ONYX 4239 (2CDs)
Even by Rachmaninoff's standards, his single-movement Trio élégiaque no.1 is a mournful utterance that owes much to his early hero and champion, Tchaikovsky. The distinguished all-Russian team phrase with great intensity, shaded by dark tonal hues that capture the music's sense of lament. The Second Trio élégiaque, composed in the wake of Tchaikovsky's sudden death, takes a leaf out of the latter's A minor Piano Trio by structuring the second movement as a lengthy theme and variations. Cellist Pavel Gomziakov and violinist Tatiana Samouil capture the music's profound yearning, exchanging phrases with subtly applied vibrato and portamentos.
The Cello Sonata is a glorious work that dates from the same period that produced the Second Piano Concerto. It cries out for the sense of liberating spontaneity and exultant momentum that Gomziakov and Korobeinikov achieve here.
Filling out the set are radiant performances of Rachmaninoff's remaining works for duo – the op.2 Pieces and Lied for cello, and for violin the two op.6 Morceaux de salon, A minor Romance and a flighty arrangement of Mussorgsky's 'Gopak' from Sorochinsky Fair.
JULIAN HAYLOCK