Historically informed approach highlights these works' complexity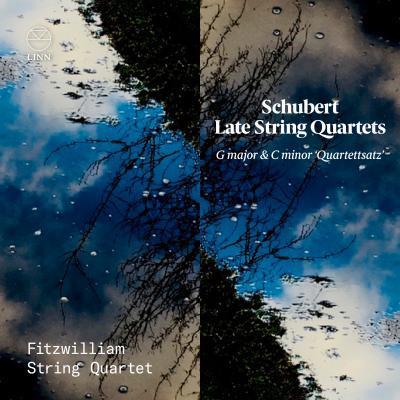 The Strad Issue: January 2022
Description: Historically informed approach highlights these works' complexity
Musicians: Fitzwilliam Quartet
Works: Schubert: String Quartets: nos.15 in G major D887, no.12 in C minor D703 'Quartettsatz'
Catalogue number: LINN CKD673
Having recently celebrated its 50th anniversary, the Fitzwilliam Quartet is hardly resting on its laurels. For the quartet's first recording of arguably Schubert's finest quartet, the players have moved closer than ever towards a more 'authentic' style of playing. Modern, metal-wound strings have been replaced by thick, Viennese-style gut, and obsessively flowing cantabile by innumerable subtleties of bowing technique and sparing use of vibrato as a 'colouration', rather than an all-pervasive expressive fundamental. The customary modern pitch level of A=440 has been slightly reduced to A=433, in line with Viennese practice in the 1820s, dynamics expanded (especially at quieter levels) and tempos and articulation rethought in accordance with the latest musicological research.
As an added inducement, the Fitzwilliam also includes Brian Newbould's inspired completion–realisation of an A flat major Andante, which Schubert originally intended should follow the famous Quartettsatz. It provides a tantalising glimpse of what might have been, and is shaped with the greatest sensitivity by the Fitzwilliam players, enhanced by the recording's gently cushioned ambient glow. As violist Alan George points out in his excellent annotations, 'the listener is seriously challenged as to what is Schubert and what is Newbould.'
In Schubert's mighty G major Quartet, the Fitzwilliam's trademark probing inquisitiveness, enhanced by period-instrument sensitivities, reveals a work of profound emotional complexity. Even the comparatively straightforward scherzo, shorn of all generic norms, is revealed as a deeply unsettling utterance, about as far from the light-hearted implications of its title as can be imagined. Most startlingly of all, they imbue the finale's moto perpetuo-isms with a palpable sense of threat, making the coda's gentle major-key resolution feel more than ever like laughter through tears.
JULIAN HAYLOCK