Outstanding Debussy from this much-missed concertmaster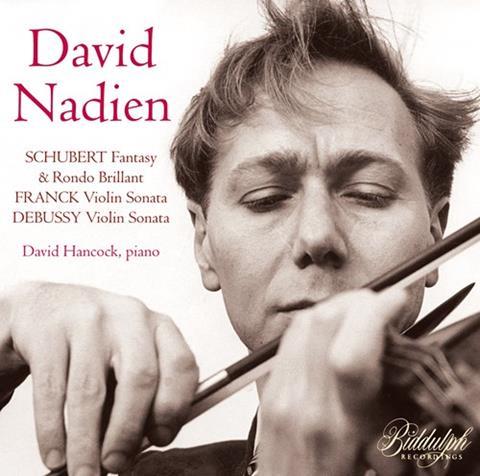 The Strad Issue: July 2022
Description: Outstanding Debussy from this much-missed concertmaster
Musicians: David Nadien (violin) David Hancock (piano)
Works: Debussy: Violin Sonata in G minor. Fauré: Berceuse. Franck: Violin Sonata in A major. Ravel: Pièce en forme de habanera. Schubert: Fantasy in C major D934; Rondo brillant in B minor D891
Catalogue number: BIDDULPH 85012-2
Brooklyn-born David Nadien (1926–2014) was a legendary freelance violinist, concertmaster and occasional soloist whose records of short pieces were notable for their brilliance and timbral range.
Begin listening at track 7, where you'll find a splendid Franck Sonata with the excellent pianist David Hancock (1927–2001). Apart from one or two slightly short-breathed phrases, it reflects what Nadien learnt from his main teacher Ivan Galamian.
Fauré's Berceuse is beautifully played (though perhaps a little too 'straight') but then comes perhaps the finest Debussy Sonata ever recorded on the American continent. It glistens, it glitters, it shimmers, it dances with infinite tonal variety. This is the authentic tradition, direct from Lucien Capet via Galamian. Then Ravel's Vocalise, which is nicely voiced.
It was a mistake to open with unpublished versions of the two pieces Schubert wrote for the Czech virtuoso Josef Slavík. The Fantasy in C major, among the most difficult works in the repertoire, is forever linked with one of Nadien's early teachers, Adolf Busch, and his duo partner Rudolf Serkin.
Hancock is too loud initially and Nadien emits a most peculiar noise; the two do not settle down until the statement of the song theme and – in the Rondo brillant as well – there is hacking-through-the-undergrowth and strained violin intonation. But oh, that Debussy!
TULLY POTTER