Leah Hollingsworth hears the performance of Bach, Schumann and Dvořák at New York's Merkin Hall on 4 December 2022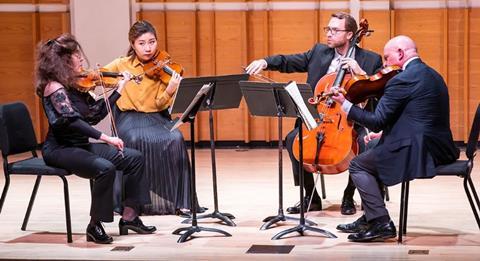 New York Philharmonic Ensembles
Merkin Hall 4 December 2022
Cellist Patrick Jee introduced the first piece on the programme of New York Philharmonic Ensembles this month – his own arrangement of Bach's famous Chaconne from the D minor Violin Partita – for five cellos. They played with sensitivity, strength and passion – and while the arrangement took away some of the intimacy of the work, it did allow for some delicate moments and overall I found the depth of sound from the five cellos simply glorious.
Schumann's Second String Quartet followed and did beg the question: in a city such as New York, filled with wonderful chamber music, what is the goal of a chamber music programme presented by Philharmonic players? While the concert was quite well-attended, the ensemble for the Schumann was not especially well matched. The variations in the Andante were nicely characterful and the tricky rhythms in the Allegro molto vivace had accuracy and vigour, but much of the spiccato work in the Scherzo was a bit messy.
Dvořák's String Quintet no.2 concluded the concert and was brilliantly introduced with wit and intelligence by bassist Max Zeugner. The first movement featured elegant playing from violist Leah Ferguson, while empathetic interplay between second violinist Alina Kobialka and cellist Alexei Yupanqui Gonzales added depth and richness. The Bohemian dance melodies of the Scherzo could have been a bit more raucous but were sensitively done and the work concluded with energetic, vibrant playing – soaring lyrical melodies and a constant sense of elegance even in the boisterous ending. The Dvořák came across much more cohesively than the Schumann, making for an extremely enjoyable performance.
LEAH HOLLINGSWORTH
Photo: courtesy New York Philharmonic