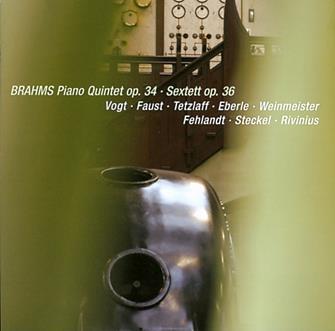 The Strad Issue: January 2007
Musicians: Christian Tetzlaff (violin) Isabelle Faust (violin) Veronika Eberle (violin) Hanna Weinmeister (viola) Stefan Fehlandt (viola) Julian Steckel (cello) Gustav Rivinius (cello) Lars Vogt (piano)
Composer: Brahms
These splendid, well-rehearsed performances from the Heimbach Festival are of more than ephemeral interest. Brahms's sextets are customary festival fare, but it is rarer to find such a cogent reading of the Piano Quintet emanating from an ad hoc group.
The strings (Tetzlaff, Eberle, Weinmeister, Steckel) go very well together and there is no feeling that they are not a regular quartet. Vogt seems to be wholly on the same wavelength and all four movements are most satisfying in both outline and detail.
I am especially pleased to hear how inwardly everyone plays the poco sostenuto at the start of the finale, with a real pianissimo. The little smudges and flubs inseparable from a live performance are few and far between.
The Sextet team (Faust, Tetzlaff, Fehlandt, Weinmeister, Rivinius, Steckel) also does a terrific job, although the players could keep going a little better in the big opening movement – the old Marlboro ensemble led by Pina Carmirelli (Sony) managed this aspect better, at a slower tempo.
The Marlboro group also deployed a mite more warmth: here the violin tone is often slimline to the extent of being a 'diet' version. But there is so much to enjoy, especially when the violas or cellos are in the ascendant.
The Sextet recording is mellow enough but the Quintet sounds a bit 'hemmed in'. I enjoy hearing Vogt get stuck into the piano – this is a massive work – but at times, especially in the Scherzo and finale, there is a suspicion of overload in the sound.
TULLY POTTER