Leah Hollingsworth hears the performance at Carnegie Hall, New York, on 26 October 2019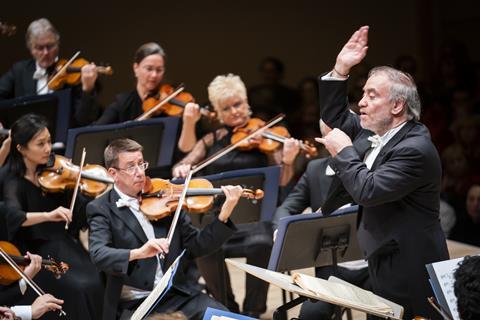 The Munich Philharmonic opened its Carnegie Hall programme with Jörg Widmann's Con brio, a work characterised by tight ensemble and electric use of extended techniques both in the strings and winds. The interplay and exchange of ideas between these sections set up well the interplay between solo violin and orchestra in the Brahms Violin Concerto, featuring Leonidas Kavakos in a breathtaking performance. His opening scales and double-stops seemed utterly effortless. Although occasionally his G-string sound was a bit forced, he had many opportunities to demonstrate his mastery over the upper registers, and his playing on the E string and in high positions was stunningly crystalline.
Kavakos brought out the elegance in even the most difficult of passages, and his first-movement cadenza was entirely captivating – shimmering with nuance and colour. The second movement opened with a subtle, well-timed oboe solo that blossomed to make room for the violinist's elegant phrasing and nearly perfect playing. The Allegro giocoso was utterly brilliant, and instead of the double-stop workout it can sometimes sound like, under Kavakos's masterful technique it was a playful challenge. His encore – the first movement from Enescu's Impressions of Childhood – again proved his mastery of the instrument and allowed for a playful ending to a performance that demonstrated all of Kavakos's command and control of the violin, immaculate musicianship and rhythmic sense.
Shostakovich's Fifth Symphony followed the interval, and it was a delight to hear the unified and controlled sound from the strings throughout. The spinning, characterful lines in the first movement had just the right amount of pleading and were not overly dramatic nor forced. The pizzicato in the Allegretto was well controlled and the intensity of the Largo was stirring. The controlled energy of the final Allegro was a perfect balance of jubilation and sarcasm.
Leah Hollingsworth