Peter Quantrill hears the soloist and orchestra at London's Royal Festival Hall on 27 September 2019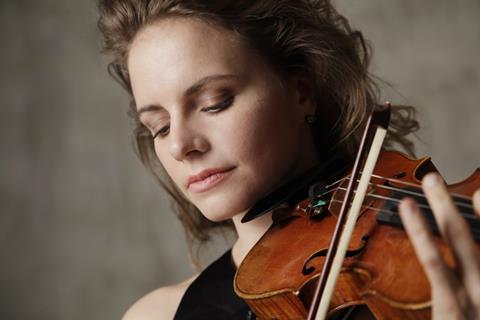 In the wake of a devastating second-half account of Tchaikovsky's 'Pathétique', the more unsettling for its score-based sobriety of gesture, it took an effort of will to recollect that Julia Fischer's command of the Violin Concerto by Britten had been outstanding for similar reasons. The Spanish Civil War is scored deeply into Britten's concerto, yet there are few picturesque elements in the solo part beyond some rhythmic allusions in the scherzo, and Fischer played these down. Instead, she focused on the unusual expressive journey of the work from innocence to despair, opening with a Mendelssohnian purity of line and leaving the Spanish colour to the incisive support of the LPO.
Vladimir Jurowski animated the disquieting contrasts of the first movement, and he and Fischer stressed the most Russian influences on the 25-year-old composer, who borrowed ideas with no less light-fingered dexterity than his contemporary Stravinsky. Yet the Cinderella-like pirouettes of the scherzo predate Prokofiev's ballet by several years, and Fischer (below) used them to spin on a sixpence into the cadenza on which the concerto's world turns. With the faintest suggestion of a guitar in some astonishingly projected pizzicato and then ferociously clean Baroque sequences she fined down her tone note by note to prepare the way for the formal rigour of the concluding Passacaglia. Here, the character of her Bach playing, echoed and astutely underlined by an encore of the Sarabande from the D minor Partita, was all the more affecting for its understatement.