Leah Hollingsworth hears the performance of Beethoven, Prokofiev, Bloch, Franck, Clara Schumann and Brahms at the Stern Auditorium, Carnegie Hall, NY, on 30 May 2023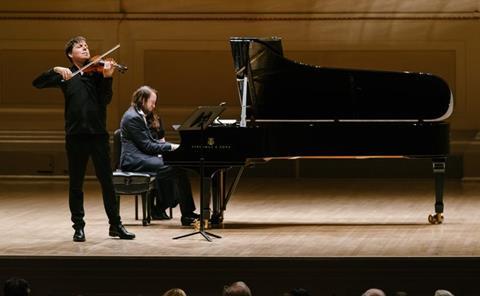 Violinist Joshua Bell once again proved himself to be not just an outstanding soloist and leader, but also a formidable collaborative partner in his recital with pianist Daniil Trifonov.
Beethoven's Violin Sonata op.12 no.1 began vigorously and offered sumptuous colours in the first-movement development. The dramatic opening of Prokofiev's First Violin Sonata op.80 was well suited to the pair, and Bell performed the extended double-stopped passage flawlessly and with great beauty. The Andante was appropriately sombre, while also possessing grace and depth of emotion thanks in part to a beautifully blossoming and carefully applied vibrato, and the concluding Allegrissimo had flair and impressive mastery.
Bell himself introduced the second half of the programme, noting the Ysaÿe connection between Bloch's 'Nigun' (from Baal Shem) and Franck's A major Sonata. It was refreshing to hear such an esteemed performer address the audience in such a relaxed way ('I was looking it up in the dressing room,' he shared). 'Nigun' was performed with tremendous passion and intensity before the Franck closed the evening beautifully, with many opportunities to witness Trifonov's skill – as virtuosic and versatile as Bell's – and to relish the impressive collaboration between the two musicians.
Bell's bow control, breathtaking pianos, tasteful glissandos and perfectly timed ritardandos contributed to a remarkable performance. Two encores rewarded the full house's standing ovation: a Romance by Clara Schumann and Brahms's First Hungarian Dance.
LEAH HOLLINGSWORTH
Photo: Fadi Kheir