Charlotte Gardner visits the Verbier Festival in Switzerland to hear the performance at Verbier Church on 18 July 2021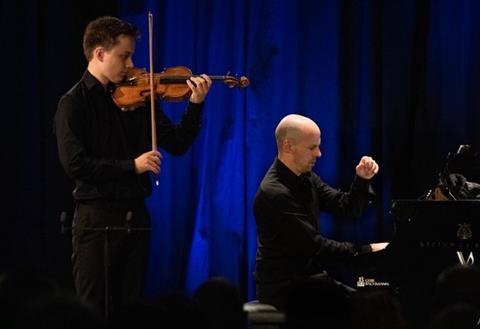 Ravel's Violin Sonata, three of Sibelius's Six Pieces for violin and piano, Prokofiev's Violin Sonata no.2, plus the world premiere of Kaan Bulak's Violin Sonata no.1 made a meaty Verbier Festival recital from Johan Dalene in a first partnering with French pianist Julien Quentin. While the piano initially overpowered the violin in the Ravel, things soon settled into performances of glued-together mutual awareness.
The Ravel's central 'Blues' movement was especially striking: the swing of Dalene's opening pizzicato strums; the sheer bluesiness of his ensuing arco's laconic lilt, coloured by throbbing vocal-style vibrato. But although every piece brought its interpretative and colouristic pleasures, the most intriguing was the Bulak. A concise ten minutes or so, this three-movement work appeared occasionally to be recalling Ravel's ideas and instrument relationships, albeit very subtly. Among its ear-pricking moments were, in the first movement, wide, juicy violin double-stops leading into an upward glissando that landed in a soft, solo violin dreamscape employing modes and Middle Eastern harmonies. The second movement's seductively snaking, folkish violin song was set against darkly percussive piano writing, while the Adagio finale offered a modern twist on 19th-century Romanticism; and while its whispered conclusion felt strangely unfinished, perhaps that was the point.
CHARLOTTE GARDNER