Edward Bhesania attends the recital at London's Barbican on 13 January 2020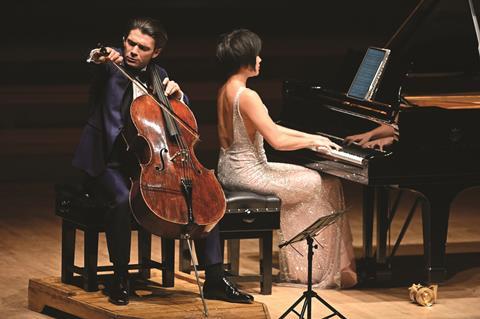 It's easy to be cynical about a duo that draws together two young, attractive star performers – and indeed this was the tour of the recent CD. Playing from tablet screens, they opened with Franck's Violin Sonata. If the first movement was more languorous than the Allegretto ben moderato marking might suggest, we were quickly seduced by Capuçon's rich, woody tone. There was urgent turbulence and gorgeous lament in the second movement and a mythical quality to the cello recitative of the third movement. Of course, it helped to have a pianist with a technique as barnstorming as Wang's.
In Chopin's early Introduction and Polonaise brillante – according to the composer 'nothing but dazzle, for the salon' – it was hard not to admire Wang's feather-light right-hand decorations. The concert had started more than ten minutes late owing to a technical issue but it also seemed that Wang could have been in physical discomfort. Were that the case, it made her blemish-free performance all the more impressive.
Late Chopin, next, with the Cello Sonata – into which Capuçon again poured his trademark suave tone. There was sparkling charm in the Scherzo and rapt duetting in the Largo. I could have done without the encore, Piazzolla's relatively lengthy and inelegant Le grand tango, but there's no question it brought the house down.
EDWARD BHESANIA
Photo: Mark Allan/Barbican