Tim Homfray attends London's Wigmore Hall for the recital on 17 February 2022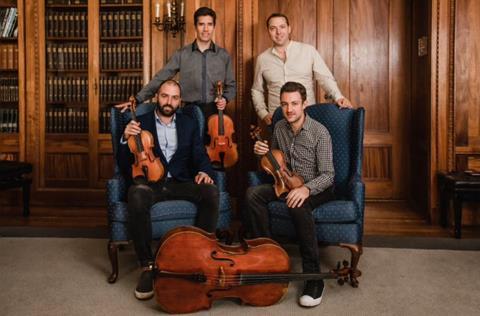 The Escher Quartet opened this concert with Beethoven's last quartet, the F major op.135. Its playing was mostly light and gentle in the first movement, with a flowing line underpinning its many changes of character. The lower strings drove relentlessly in the second-movement Vivace, and the Lento assai had profound, hushed eloquence. In the finale there were fierce contrasts; the return of 'Muss es sein?' was grim and remorseless.
Next came Britten's Third Quartet, and the players revealed an unsettling mystery in the opening 'Duets' movement. In the third movement, 'Solo', first violinist Adam Barnett-Hart worked his way to an almost improvisatory cry of anguish. The central Quasi 'Trio' of the fourth-movement 'Burlesque' was a spectral waltz before its fierce ending. After the gentle rocking of the cello in the final movement, second violinist Brendan Speltz and violist Pierre Lapointe imbued their solo lines with a contained power. There was warmth of sound, but the end of the movement was bleak and implacable.
Pianist Andreas Haefliger joined the Escher after the interval for Brahms's Piano Quintet, which he performed as high Romantic drama, impetuous and passionate. The first two movements were relatively speedy, and in the second they touched some schmaltzy heights. To the scherzo they brought great impetuosity, and the quintet ended in a state of demonic energy.
TIM HOMFRAY
Photo: Anna Kariel