High-voltage interpretations from a prize-winning quartet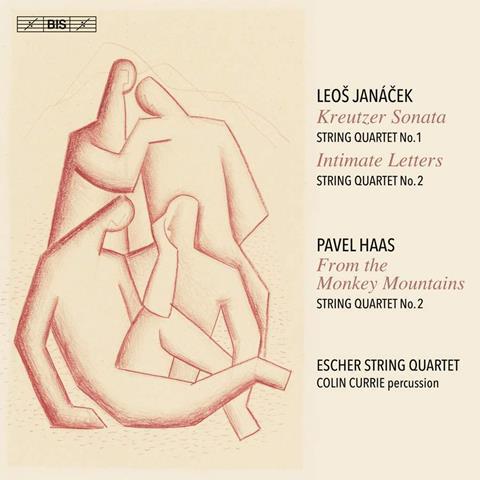 The Strad Issue: September 2023
Description: High-voltage interpretations from a prize-winning quartet
Musicians: Escher Quartet, Colin Currie (percussion)
Works: Haas: String Quartet no.2 'From the Monkey Mountains'. Janáček: String Quartets: no.1 'The Kreutzer Sonata'; no.2 'Intimate Letters'
Catalogue number: BIS BIS2670
Love would seem to be the leitmotif that binds together this programme. Janáček's First Quartet is based on a Tolstoy novella of the same name and depicts a story about a husband who murders his wife in jealousy over her 'friendship' with a violinist. The Second Quartet, 'Intimate Letters', is inspired by Janáček's passion for Kamila Stösslová, 40 years his junior and – like the composer – married, while certain passages in Pavel Haas's Second Quartet reflect on his affair with the writer Maria Podešvová.
Emotions are in turmoil and an almost Expressionistic display of extremes can be found in all three works. The Escher players are like four finely tuned actors on stage, lending the drama a compelling narrative. The textures in both Janáček quartets are exquisitely clear, and the details of the scores are meticulously delivered. I particularly enjoyed the adroit speed changes, handled so naturally while maximising the theatrical nature of the invention.
Haas has a wildly original voice and would surely have been a major creative force in 20th-century music had his career not been brutally curtailed by the Nazis. Once again, the Escher, aided by Colin Currie, proves its palette of sounds is sufficiently rich to capture the vivid impressions of the countryside explored in Haas's work. The fine accompanying booklet by Michael Beckerman also provides the listener with a real insight into this music.
JOANNE TALBOT