Leah Hollingsworth attends the performance of Brahms at New York's 92Y on 23 October 2021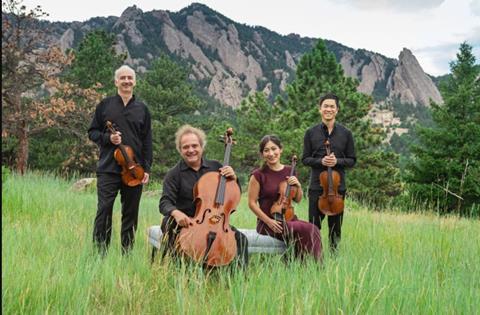 The clean playing of the Takács Quartet brought clarity of line to an evening of Brahms at 92Y. While Brahms's music is often known for its density, the Takács brought a certain simplicity to two of his works for strings and piano, in an almost straightforward – although not boring – performance with Garrick Ohlsson. The sweetness of Edward Dusinberre's sound immediately invited the audience into the A major Piano Quartet op.26.
This was the first time I heard the quartet's new violist Richard O'Neill, and while his playing was characterful and vibrant, he brought a different energy to the group: at times his brighter sound stuck out a little, as did his dramatic physical gestures. His eagerness felt almost self-conscious, or perhaps soloistic, and at times was even distracting. Nonetheless, his articulations were perfectly matched (and quite striking in the Scherzo of the Quintet in the second half) and he did contribute a vibrancy to the group that balanced out the somewhat mechanical piano playing of Ohlsson. The Finale of the Piano Quartet had terrific energy and beautiful transitions, and a most exciting ending.
The string playing of the Brahms F minor Piano Quintet op.34 was often quite breathtaking. The Andante opened with terrific sensitivity and transitioned into a highly romantic interpretation complete with slides on the shifts and wide vibrato. The final movement boasted elegant playing from cellist András Fejér and the Quartet never lost the quality of sound or clarity of line despite an explosive ending.
LEAH HOLLINGSWORTH
Photo: Amanda Tipton