Leah Hollingsworth hears a Baroque Bach concert at Alice Tully Hall, New York, on 10 December 2021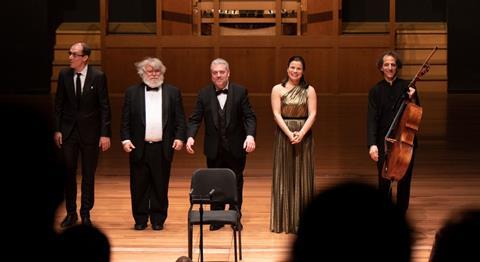 Baroque Bach, a programme of six solo Bach works postponed from December 2020, seemed almost more powerful now: windows into the inner worlds of six musicians coming out of a time of introspection, ready to share the most personal music of faith and hope.
It strikes me that although a solo work seems to be the opposite of chamber music, solo Bach, with its polyphony and intricate voicing, is the ultimate chamber music for one. It was sublime to hear the programme open with the Lute Suite in G minor: what an intimate and exquisite instrument it is. Bach's Violin Partita in E major followed. Bella Hristova opened with a breathtakingly quick tempo but played with beauty, clarity and incredible dynamic contrasts despite her fast pace. I wondered what could be left for the Gigue while marvelling at her immaculate playing. I appreciated the minimal but thoughtful vibrato in the Loure and the wonderful character of her Gavotte. The Menuets were sophisticated and played with elegant simplicity – my favourite movements. I was wowed by her sparkling execution and fast tempos in the final two movements.
Following superb performances of Bach's French Suite in B minor for keyboard by Gilles Vonsattel and nine organ partitas on 'O Gott, du frommer Gott' by Stephen Tharp on the Alice Tully Hall organ, Colin Carr took the stage with Bach's Sixth Cello Suite. Although he struggled with intonation in the Prelude, the movement had a beautiful flow. I appreciated his thoughtful approach to voicing and pacing in the Allemande and his understanding of the music's structure was evident in the Sarabande, which was poised and almost meditative. The Gavottes were the best movements of the suite – expertly played, beautifully executed, and filled with charm and sophistication. The Gigue was wonderfully played with appropriate abandon to finish in high spirits.
LEAH HOLLINGSWORTH