Bruce Hodges hears the recital at the 2022 Bowdoin International Music Festival in Bowdoin, Maine, US, on 1 July 2022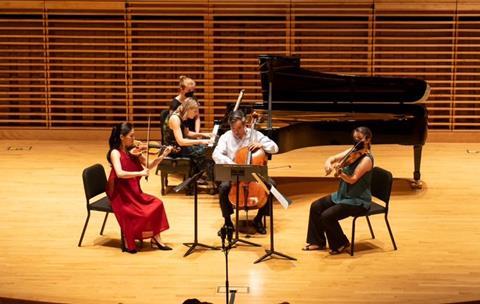 In her opening remarks, violinist Ani Schnarch commented on how Bach influenced Honegger's Sonata for solo violin (1940). And, in common with his most popular work, Pacific 231, this sonata has echoes of steam locomotives. Later, the audience voted on whether the composer envisioned an intercity or a mountain train. (The latter won!)
In the opening movement, Schnarch's disciplined bow strokes kept the waves of double-stops in line, and curiously, as the second movement began, I wondered if the railway tracks had subconsciously inspired the composer's use of two strings. Occasional solo lines seemed secondary to the almost constant, rugged twin textures. The violinist threw a brief grin to the audience before diving into the gruff, demanding finale, perhaps the most Bachian of all.
In R. Murray Schafer's dreamy Trio for flute, viola and harp (2011), Dmitri Murrath's full-blooded viola tone made an enticing counterpoint to the crystalline sonorities from flautist Linda Chesis and June Han on harp. The violist was especially compelling in the prayer-like simplicity of the languid second movement.
To close came Dvořák's Piano Quartet no.2, with Kyung Sun Lee (violin), Rebecca Albers (viola) and David Ying (cello), with Elinor Freer at the piano. In the opening Allegro con fuoco, rhythmic precision merged with a keen sense of the composer's combination of fluidity, drama and occasional playfulness before the thrilling final bars. Ying's tenderness and lustrous tone in the second movement were captivating, amid stormy surges from his colleagues and the graceful third movement was laced with nostalgia. But then came the bracing finale, after which cheers from the audience acknowledged the foursome's sparkle and ferocity.
BRUCE HODGES
Photo: Niles Singer/Bowdoin International Music Festival