Peter Quantrill listens to the concert at the Barbican, London, 2 March 2019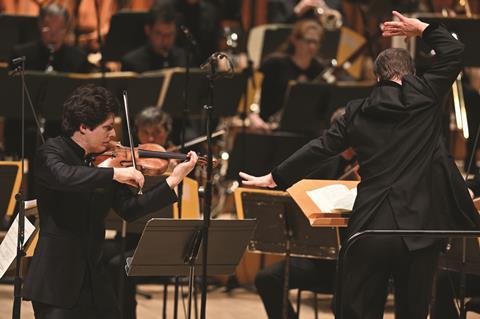 Hadelich's recording of the Ligeti Concerto was hot off the press (see article, April 2019) when he performed it as part of the climax to a 'Total Immersion' day. This was dedicated to Ligeti's ever-entrancing sound world – and while the Norwegian Radio Orchestra players had the luxury of multiple takes in the studio to get his fiendish cross-rhythms under their fingers, the BBC Symphony Orchestra is used to playing this kind of music right first time.
On this occasion, within a demanding programme, the reduced ensemble sounded almost too much at home under Oramo's efficient direction. It was left to Hadelich to supply the tightrope danger and black-run adrenalin that propel the concerto forwards. His handling of high harmonics was breathtaking, evoking exactly the kind of uncanny, distanced emotion Ligeti had in mind when he coined the term 'deep-frozen Expressionism' for his earlier music.
Yet the Concerto dates from a long period in the 1980s when the composer embraced the power of melody and made it his own. Hadelich did likewise with the second movement's quirkily memorable aria, bending the pitch like a folk violinist and projecting his pizzicato accompaniment to the ocarina quartet right to the back of the Barbican. His no-holds-barred approach made the cadenza by Thomas Adès a fitting climax, bringing back themes from previous movements but with bells and whistles like a modernist Joachim.
PETER QUANTRILL
Photo: Mark Allan