The violinist has recently recorded music for Suzuki Method Books 4-6. He shares with The Strad his thoughts on the method, the challenges of recording such beloved works and the sense of responsibility in immortalising the repertoire for the next generation of violinists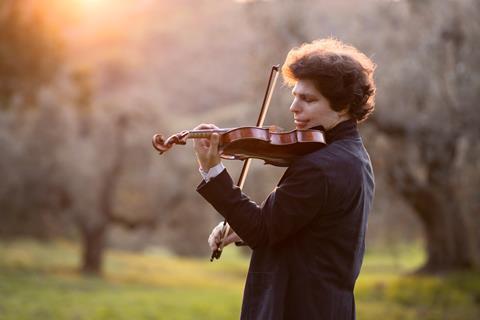 I actually did not learn from the Suzuki Books as a child. My start on the violin was unusual: my first violin teacher was my father, who was an amateur cellist and pianist, but he didn't play the violin (he was the son of a violin teacher and a professional cellist, however). My father had read a lot about the Suzuki Method, and he did incorporate some of its ideas when he started teaching me the violin; for example, the idea of first learning simple children's songs that I knew, and to learn by imitating what I heard. Some of the repertoire selections were similar as well.
I think the big achievement of the Suzuki Method and why it became so popular is that it showed a kinder, more loving way to teach an instrument. Before Suzuki came along, there often wasn't much method to the teaching of young children. Instead of encouragement, teachers often used threats and punishment. Results were mixed! When it didn't work, teachers just blamed the students for having no talent.
Suzuki realised that in every other music tradition, new players simply learnt by ear, by imitating more accomplished players, and that this is the most natural way to learn an instrument. He pointed out that this is precisely how children first learn how to speak, by imitating the words they hear their parents say. It seems obvious now!
I felt very honoured and excited when I was first asked to record the music in Books 4-6. I also immediately had the thought that making this recording was a great responsibility, because so many kids will hear my recording, over many years! I knew I had to try to be a good role model for them in terms of accuracy, musical phrasing and quality of sound.
I remember when I was first learning the violin as a child. The violin is a hard instrument to start (for everybody), and it can be tough going at first. It was recordings of great players such as Uto Ughi and David Oistrakh that made me fall in love with the sound of the violin and realise how much I wanted to play. I hope that these Suzuki recordings will similarly inspire young players of today.
In addition to following the fingerings and bowings of the books and showcasing good technical habits, I wanted it to sound fun and beautiful as well. The biggest challenge was that Kuang-Hao Huang, the pianist I collaborated with for the project, played in a different room from me. We could see each other through a glass window, but could not hear each other except through headphones. This was because each disc also contains the piano track on its own, so we needed complete separation between violin and piano sound.
There are so many subtle adjustments we make for ensemble and balance when we play with other people, including adjustments we are not even aware of. This non-verbal, subconscious musical communication was much harder when were not in the same room.
In addition, the room I played in was very small, a sound isolation booth, while the piano was in a large room. It was not easy to mix the sound so that we sounded like we played together in the same room! Luckily, I recorded this project in Boston with the producer and engineer Antonio Oliart, which whom I'd previously recorded Bach's Sonatas and Partitas, the Paganini caprices, and my album Bohemian Tales— so I knew I was in good hands.
In a way, the projects I recorded at home during the pandemic (where I would collaborate with other artists, and even play duos with myself, recording first one part, then the other) prepared me for this challenge— I had a lot of practice in listening extremely closely without seeing who I'm playing with!
There's a lot of good music in these three books! I probably had the most fun recording the Bohm Perpetual Motion in Book 4, and the Fiocco Allegro in Book 6. However, my favourite pieces of music among books 4-6 might have to be the Handel sonatas in Book 6.
Best of 2022: The Strad Playing Hub
1

2

3

4

5

Currently reading

'A kinder, more loving way to teach an instrument': Violinist Augustin Hadelich on the Suzuki Method

6

7

8

9

10

11