Charlotte Gardner reports on the Kings Place, London, recital on 20 November 2019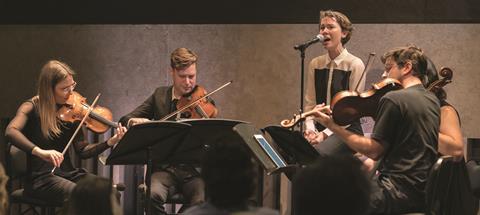 Kings Place's year-long Venus Unwrapped series, devoted to women composers, threw up all sorts of lesser-spotted gems over the course of 2019. Happily, though, the American Pulitzer Prize-winning composer Caroline Shaw is increasingly not a figure who ticks the 'lesser-spotted' box even in the UK, so this was always going to be a likely highlight of the series.
Occupying the first half were three pieces for string quartet heard on the Attacca and Shaw's Grammy-nominated Orange album: Valencia, Punctum and Entr'acte. These were punctuated by Shaw singing her new Five Songs for voice and string quartet, whose musical language was – as usual with Shaw – an ear-prickingly melodic one, drawing on American folk and ancient European stylistic traditions, couched within modal, polytonal, atonal and extended harmonies, and featuring extended string techniques. Shaw's light, supple voice beguiled at its every turn. The quartet matched with its own clean-edged sound, often without vibrato, alive to the vocal line's every wax and wane and remaining glued to the music's elastic tempos. Perhaps the greatest imprint on the memory is the atmosphere the musicians spun in the hall: one of profound silence, and even the room-filling fortissimo bursts felt weighted in that context, holding the audience's attention to an unusual and moving degree. Other Song stood out especially: Shaw invited the audience to hum a B flat drone throughout, and to find ourselves physically in the centre of this harmonic language, sometimes consonantly slotting into it and at other times having to grasp on to our pedal for dear life. This was a surprisingly powerful experience and I'm not usually one for audience participation.