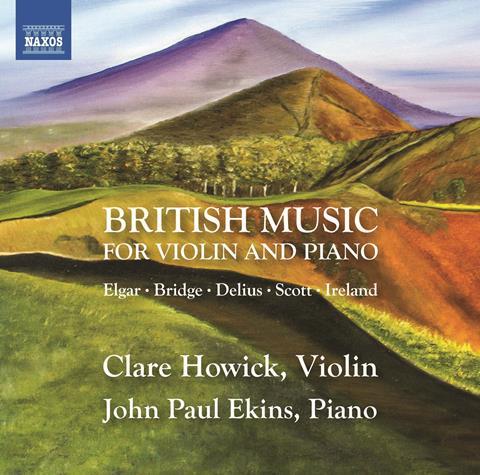 The Strad Issue: January 2018
Description: Gorgeous musical miniatures spark to life in the hands of experts
Musicians: Clare Howick (violin) John Paul Ekins (piano)
Works: ELGAR Violin Sonata in E minor op.82; Three Characteristic Pieces; and works by Bridge, Delius, Scott and Ireland
Catalogue Number: NAXOS 8.573790
Clare Howick's outstanding Cyril Scott collections for Dutton (CDLX 7200) and Naxos (8.572290) did much to revive interest in a composer whose reputation has gone from strength to strength in recent years. Her latest album of British miniatures (mostly) is if anything finer still, opening with a ravishing account of the Elgar Sonata that tends to sweep the board. Howick's tonal purity, exquisite use of vibrato and soaring cantabile prove utterly captivating here. The central slow movement's interpretatively challenging pizzicato–arco exchanges feel entirely natural, and in the potentially meandering finale her heightened instinct for emotional narrative pays special dividends. John Paul Ekins dissolves the accompaniment's occasional awkwardness into liquid phrases.
The remainder of the disc is a recital of 19 musical morsels, which finds Howick and Ekins on spellbinding form. Admirers of Frank Bridge will be delighted to hear that in addition to the Romanze, Serenade, Moto perpetuo and Gondoliera, four premiere recordings are included: a lively, swaying Country Dance, unexpectedly wistful Con moto, beguilingly seductive Une lamentation d'amour, and a Meditation of gentle allure. Cherishable sweetmeats by Scott (including a premiere account of Vesperale), Ireland, and Delius, round out a captivating album, captured in beguilingly glowing, tangible sound.
JULIAN HAYLOCK