Intended to be played as a seamless integrated whole, with an equality between the cellist and the orchestra, rather than as a concertante piece, Bloch's Hebraic rhapsody Schelomo has been recorded by many cellists in numerous ways – and it seems that there is something special about almost all of Julian Haylock's selections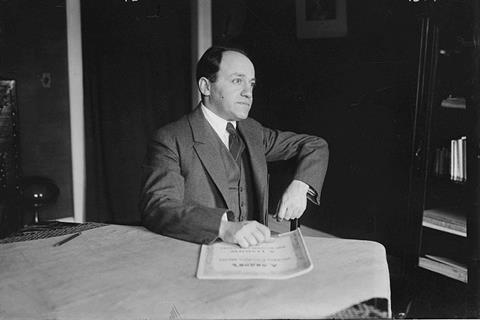 Born in Switzerland in 1880 to Jewish parents, Ernest Bloch initially looked set to follow his father into the family clock-making business – yet so strong were his musical instincts that any thought of a career in horology was quickly banished. By his mid-twenties, Bloch could boast periods of study in Geneva (with Eurhythmics creator Emile Jaques-Dalcroze), Brussels (with violinist Eugène Ysaÿe), Frankfurt (with composer Iwan Knorr), Munich (with Ludwig Thuille) and Paris. This initial creative period was crowned by the 1910 Paris premiere of his opera, Macbeth, a work of (Richard) Straussian exoticism and luxuriance that had been five years in the making.
Bloch's composing style was already undergoing a fundamental change, however, as he sought to find a way of expressing his Jewish faith through music. This resulted in a series of works that climaxed initially with the 'Israel' Symphony and Schelomo (a Rhapsodie hébraïque) for cello and orchestra. Both were completed in 1916 and successfully premiered the following year at the same Carnegie Hall concert under conductor Artur Bodanzky, who had recently emigrated from Germany to take up a position at the Metropolitan Opera House. The cello soloist on this occasion was Hans Kindler, a gifted and charismatic Dutch emigrant who had just been appointed principal cello of the Philadelphia Orchestra by Leopold Stokowski and would later find fame as both a cello soloist and a conductor.
Schelomo established Bloch's reputation internationally and remains his most popular work. Although its melodic and harmonic profiling is redolent of Jewish folk music and chanting (of which Bloch made a special study) and reflects the natural inflexions and cadences of spoken Hebrew, it is entirely of the composer's own invention. Bloch intended the solo cello to embody the voice of the biblical King Solomon ('Schelomo' in Hebrew), while the orchestra represents (according to Bloch) 'the world surrounding him and his experiences of life; at the same time, it often seems to reflect Solomon's inward thought while the solo instrument is giving voice to his words'.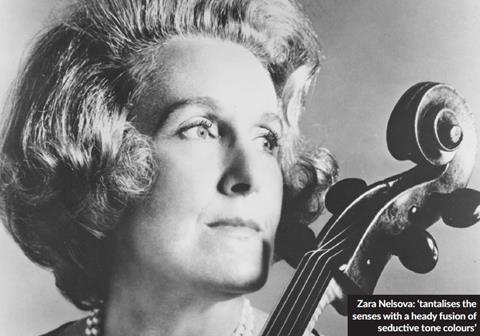 Cast in three main sections against a background of sonata structure, Schelomo presents a number of specific challenges for the soloist and conductor. Although the music's poetic rhapsodising is key to Bloch's vision, it is essential that the score's pacing retains a strong sense of forward narrative and structural cohesion. The cello is essentially primus inter pares, so while the listener should be left in no doubt as to where the instrumental focus lies, the effect should be closer to a symphonic rhapsody than a concerto movement. Most importantly, soloist and orchestra should move together as one without any sense of sonic or emotional conflict.
THE 1940S AND 50S – FEATURING A NELSOVA TRIO
Emanuel Feuermann's trail-blazing 1940 Philadelphia recording casts an intoxicating spell and imparts a strong sense of emotional narrative. Stokowski's 'fabulous' orchestra plays a vital role throughout, providing an alluring backdrop with a filmic sense of the drama unfolding. Feuermann is balanced well forward yet vividly communicates a strong musical rapport with his distinguished colleagues.
When Bloch came to record Schelomo himself with the London Philharmonic Orchestra in 1949, his choice of soloist was Zara Nelsova, who tantalises the senses with a heady fusion of seductive tone colours and commanding presence. Conductor Bloch focuses his players on the music's grand sweep, with Nelsova allowing a greater sense of give and take than Feuermann.
Interestingly, when Nelsova re-recorded the work some six years later, the LPO was once again on hand, only this time under Ernest Ansermet's meticulous direction. The Decca engineers create a more imposing sound picture, rich in detail with an attendant sense of the music being projected to the back row of a large concert hall. Nelsova is, if anything, even more commanding the second time around, though the trade-off is a certain loss of hushed introspection. Her 1967 remake with the Utah Symphony Orchestra and Maurice Abravanel, despite many fine moments, ultimately lacks the freshness and concentration that distinguish both her earlier accounts.
Leonard Rose's no-nonsense vision is especially compelling in his 1951 New York account with Dimitri Mitropoulos. This oozes atmosphere, with Rose's brooding seriousness complemented by predominately dark orchestral colours sounded (where appropriate) with a sense of menace. Rose's noble restraint actually intensifies the score's impact in a clear case of less is more.
Recorded in Boston in 1957, Gregor Piatigorsky's version exchanges Rose's essentially downward thrust for a yearning cantabile, matched by Charles Munch's evocative orchestral detailing. Piatigorsky sounds more concerned with the overall impact of Bloch's writing, engaging with his distinguished orchestral colleagues in a collective vision of rare intensity.
THE 1960S – CLARITY AND FRESHNESS
Ten years after making his first recording, Leonard Rose returned to Bloch's evocative soundscape, this time in Philadelphia with Eugene Ormandy at the helm. The result is richly opulent, with the music's exotic flavours relished to the full, coupled with an almost overpowering sense of combined expertise. It may be more Western European than Middle Eastern in tone, but few other versions exert such a strong sense of grip on this glorious music.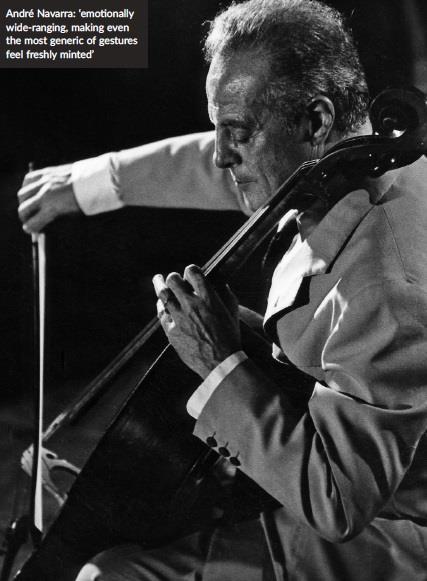 Also from the US at the start of the 1960s comes a strikingly engineered recording of exceptional clarity (it sounds as though a veil has been lifted from the score) by Georges Miquelle, an enormously experienced chamber and orchestral musician who exhilarates in Bloch's invention like no other cellist. The Eastman-Rochester Orchestra under composer–conductor Howard Hanson grasps the musical nettle with alacrity, relishing its every opportunity.
By comparison, André Navarra (recorded in 1964) is more emotionally wide-ranging, making even the most generic of gestures feel freshly minted. As the work progresses it seems as if Navarra is peeling back musical layers to reveal some fresh facet of Solomon's multifaceted personality. The Czech Philharmonic Orchestra and Karel Ančerl are well to the fore, creating a palpable sense of frisson at climactic moments, even if the woodwind's intonation is occasionally less than immaculate.
That is something of which one could never accuse the Berlin Philharmonic, whose mellifluous detailing of Bloch's score under Alfred Wallenstein provides a glowingly sophisticated backdrop for the aristocratic Pierre Fournier. The solo image is well forward (even the Berlin Philharmonic in full cry is barely a match for the Frenchman here), which tends to exaggerate the music's concertante element. More discreetly balanced and integrated into the sound picture, János Starker is on masterly form in his 1969 account with the Israel Philharmonic Orchestra and Zubin Mehta, who relishes the score's more heated moments with contagious zeal. For some tastes, the musical voltage setting may be set rather high, but for sheer excitement and intensity few other versions match this.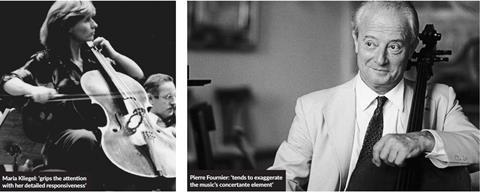 THE 1970S AND 80S – THE CONTRAST WIDENS
Mstislav Rostropovich's 1976 account of Schelomo with the French National Orchestra and Leonard Bernstein (Unitel filmed a concert performance around the same time) is a strangely overwrought affair, which for all its impassioned bold projection tends to play for the moment and ultimately lacks a cohesive sense of continuity. Lynn Harrell at his mid-1980s peak, with the Concertgebouw Orchestra and Bernard Haitink, also gives an impassioned reading – in a luxurious acoustic that expands the music to Straussian proportions. In Harrell's powerfully majestic performance, Schelomo becomes a symphonic picture in the same mould as Respighi's Roman trilogy.
In 1988 two major new recordings of Schelomo were made, which could hardly be more contrasted. Steven Isserlis's inspired reading with the LSO and Richard Hickox was the first to capture fully the score's poetic impulse. Whereas the prevailing tendency at that time was to treat dynamics from the top down, Isserlis creates an organic sense of upward growth from half-whispered confidences to climaxes of ecstatic eloquence. Mischa Maisky, by comparison, lives for every moment via a more traditionally soloistic rhetoric. Hardly a phrase goes by without being invested with its own special personality and intensity. The expressive detail is mesmerising at times, though some may prefer a less interventionist approach. Bernstein proves the ideal partner, inspiring playing of great sensitivity from the Israel Philharmonic Orchestra.
Steven Isserlis focuses on the score's dark side, but with a bittersweet, elegiac quality
THE MODERN ERA – DEEPER, DARKER, AND WITH A HINT OF OLD SCHOOL
Ofra Harnoy (recorded 1990) is placed well out in front, yet Charles Mackerras's sympathetic accompaniment with a resplendent LPO still comes shining through. Harnoy's ardent directness, free of wallowing bass resonance and activated by a narrow, fast vibrato (the effect is akin to a baritone violin), is particularly well suited to Bloch's sinewy writing.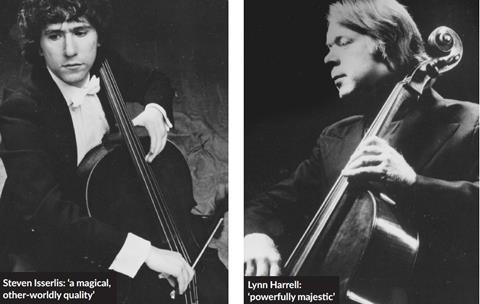 Recorded the same year, Torleif Thedéen, the Malmö Symphony Orchestra and Lev Markiz are accorded perfectly balanced, demonstration-worthy sound of startling realism that ravishes the ears. Thedéen also strikes a near-ideal balance between noble restraint and impassioned intensity, emerging from and returning to the swirling orchestral textures with a naturalness denied to those content to play Schelomo as merely a concertante showpiece.
If Thedéen tends to play in long arching phrases, Maria Kliegel grips the attention with her detailed responsiveness to each tiny inflexion, reminding us in no uncertain terms that the soloist is intended to be the embodiment of Solomon, no less. The National Symphony Orchestra of Ireland under Gerhard Markson play with polished expertise, if not quite matching Kliegel's uninhibited adrenal flow.
Yo-Yo Ma is temperamentally more closely aligned with the older generation of players, taking centre stage and dominating proceedings with his larger-than-life musical personality. More than in any other version, I was aware of waiting for the cellist's next entry (as one might in a concerto) rather than experiencing the work as a seamless, integrated whole. That said, Ma's actual playing (and that of the Baltimore Symphony Orchestra under David Zinman) sets a benchmark of excellence that few here can seriously rival.
Anne Gastinel in 1998 is a highly responsive player who pulls in the listener with inspired flights of musical imagination. Time and again she colours and times well-worn phrases with a tendresse and sense of fantasy that is seductively beguiling. The Lyon National Orchestra and Emmanuel Krivine are at their best, unleashing climaxes with a delirious abandonment that comes very close to stealing the show.
Moving into the 21st century, Nina Kotova refreshingly avoids overheated histrionics, playing with an ease and purity that prevents any sense of emotional overload. Passages that in other hands can seem decidedly effortful flow artlessly off the fingerboard here. Constantine Orbelian and the Philharmonia of Russia subtly rein in the orchestral excesses sometimes encountered in this glorious work. Jonathan Aasgaard, recorded live in 2004 with the Royal Liverpool Philharmonic and Gerard Schwarz, also encapsulates the music's internal energy without making every note sound as though it might be his last. He integrates beautifully with the orchestral accompaniment, exchanging obvious shows of temperament for a non-interventionist vision that allows Bloch's inspiration to flow unimpeded by wilful interpretative distraction.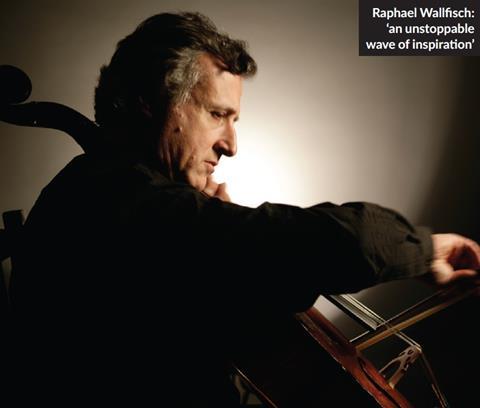 Truls Mørk plays with a dreamy flexibility, melting the score's bar-lines into a stream of consciousness that appears to suspend musical gravity. The impression that Mørk is somehow miraculously composing the music as he goes along is unrivalled by any other version, and he receives sterling support from the Radio France Philharmonic Orchestra under Paavo Järvi in glowing sound. Natalie Clein also digs deep into Solomon's psyche, but whereas Mørk emphasises his commanding presence, Clein uncovers a vein of vulnerability and dark despair – superbly matched by the BBC Scottish Symphony Orchestra under Ilan Volkov – that crushes any sense of hope. Easy listening this certainly isn't, as Clein probes the depths with a searchlight that illuminates corners of expression barely hinted at by more traditional readings.
Steven Isserlis, in his outstanding remake in Berlin with Hugh Wolff, also focuses predominately on the score's dark side, but with a bittersweet, elegiac quality that haunts the imagination long after the performance has ended. There is a magical, other-worldly quality about his playing here which captures the listener spellbound.
In many ways Raphael Wallfisch brings us full circle with a reading that surges along on an unstoppable wave of inspiration. Expertly accompanied by the BBC National Orchestra of Wales and his son Benjamin in radiant sound, Wallfisch fuses the grand style of the golden age with modern sensibilities in an all-encompassing interpretation.
CONCLUSION
The recordings in this survey sustain a remarkably high level of excellence, making a final selection particularly challenging. However, I found those by Feuermann, Nelsova–Bloch, Rose–Mitropoulos, Miquelle, Navarra, Maisky, Thedéen, Clein, Isserlis–Wolff and Wallfisch especially compelling. If I had to choose just one version for that mystical desert island, it would have to be Steven Isserlis's Berlin remake.
This article was first published in the December 2016 issue of The Strad
RECOMMENDED RECORDINGS
Jonathan Aasgaard, RLPO/Gerard Schwarz (2004), AVIE AV 2149
Natalie Clein, BBC SSO/Ilan Volkov (2011)
HYPERION CDA 67910
Emanuel Feuermann, Philadelphia Orchestra/ Leopold Stokowski (1940)
PRISTINE AUDIO PASC 168 (MONO)
Pierre Fournier, Berlin Philharmonic/ Alfred Wallenstein (1966)
DEUTSCHE GRAMMOPHON 457 7612
Anne Gastinel, Lyon National Orchestra/ Emmanuel Krivine (1998), NAÏVE V 4786
Ofra Harnoy, LPO/Charles Mackerras (1990)
RCA RD 60757
Lynn Harrell, Concertgebouw Orchestra/ Bernard Haitink (1984), DECCA 414 6222
Steven Isserlis, LSO/Richard Hickox (1988)
VIRGIN CUV 5 61125 2
Steven Isserlis, German SO Berlin/Hugh Wolff (2012), BIS CD 1992
Maria Kliegel, Ireland National SO/Gerhard Markson (1993), NAXOS 8.550519
Nina Kotova, Russian Philharmonia/ Constantine Orbelian (2001), DELOS DE 3305
Yo-Yo Ma, Baltimore SO/David Zinman (1993)
SONY 88697 561082
Mischa Maisky, Israel PO/ Leonard Bernstein (1988)
DEUTSCHE GRAMMOPHON 427 3472
Georges Miquelle, Eastman-Rochester Orch/ Howard Hanson (1960), MERCURY 432 7182
Truls Mørk, Radio France PO/Paavo Järvi (2004)
WARNER 615 8102
André Navarra, Czech PO/Karel Ančerl (1964)
SUPRAPHON SU 31692
Zara Nelsova, LPO/Ernest Bloch (1949)
PEARL GEM 0164 (MONO)
Zara Nelsova, LPO/Ernest Ansermet (1955)
DECCA ELQ 480 0814 (MONO)
Zara Nelsova, Utah SO/Maurice Abravanel (1967)
VANGUARD 08 4047 71
Gregor Piatigorsky, Boston SO/Charles Munch (1957), RCA LSC 2109
Leonard Rose, NYPO/Dimitri Mitropoulos (1951)
BIDDULPH 80209-2 (MONO)
Leonard Rose, Philadelphia Orchestra/Eugene Ormandy (1961), SONY SBK 48278
Mstislav Rostropovich, French National Orchestra/ Leonard Bernstein (1976)
WARNER 456 3192
Mstislav Rostropovich, French National Orchestra/ Leonard Bernstein (1976)
UNITEL/DG 0734381 (DVD)
János Starker, Israel PO/Zubin Mehta (1969)
DECCA ELQ 466 6832
Torleif Thedéen, Malmö SO/Lev Markiz (1990)
BIS CD 576