Janet Banks reviews a book of etudes from the Swedish cello virtuoso and teacher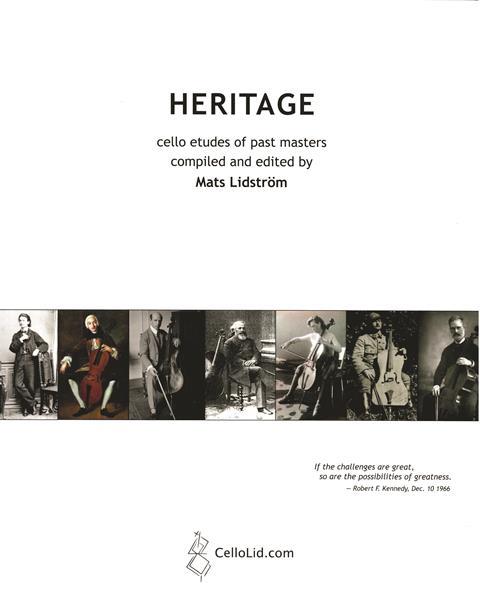 Heritage: Cello Etudes of Past Masters
Ed. Mats Lidström
154PP ISMN 9790708113409
SPARTAN PRESS £19.95
What a large and lavish cello book this is – the inside covers alone feature more than 70 mini colour pictures of celebrated past cellists, with the cover reserved for the compiler's seven greats, including his first teacher, Maja Vogl.
London-based Swedish cellist Mats Lidström's twofold aim when selecting the 77 etudes included here was to choose pieces that were not only most effective for technical progress but which also work well as encores. To the latter end he has, as he unashamedly states in his foreword, adapted some works to make them more suitable for concert performance, repeating passages he admires, taking out repetitions he finds tedious, and even boldly writing an alternative ending for Piatti's Seventh Caprice.
The term 'cello etudes' is loosely used: not all of the works which Lidström has selected were originally written for cello, and several were not intended as studies. The expected names – Popper, Duport, Grützmacher, Lee, Piatti, Dotzauer – are there, but the items by Bach, for instance, are arrangements of solo violin and keyboard works, and Offenbach's offering is a transcription from one of his operas. This makes the book much more varied and less predictable than it appears at first.
Two things could have made the publication more user-friendly. The etudes are arranged not by the technique covered, which might have been more useful, but by nationality. At least the raison d'être for each is stated in the index; for example, 'minimised string-crossing for increased legato' for Duport's Etude no.7. It is also a pity that Lidström's very helpful notes on each piece have not been printed alongside them, but are demoted to a small-print section at the back of the book.
The book is dedicated to the memory of Lidström's hero, British cellist Leo Stern. Three of his works are included, and six pages in the foreword are, rather incongruously, devoted to his biography, a newspaper interview from 1895, and reproductions of press cuttings.
JANET BANKS