Anne Inglis reviews the latest collection for young players by Peter Mohrs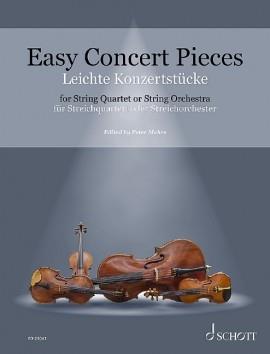 Easy Concert Pieces: for string quartet or string orchestra
Edited by Peter Mohrs
42PP ISBN 9783795703899
Schott Music £27.50
Publishing music for groups, and school-age groups too, must seem like a long-term investment at the moment, with social distancing very much advised as I write. But once the world reverts to some sort of normality, this publication is a good addition to the Easy Concert Pieces series, with accessible repertoire playable by musicians largely in first position. This doesn't mean the music is too simple or unimaginative for interest – think folk music! – but that the technical demands allow focus on ensemble skills rather than grappling for in-tune top Ds. The exception here is an Allegro by Haydn, where the first violin has a chance to shine in some trickier higher passages, but there are rests to allow preparation for the position changes.
The repertoire includes examples of Baroque, Romantic and modern. The modern element is described by the publisher as popular. I'm not sure about this – I don't think children would class these items under that heading – but the pieces by Harald Genzmer, Rainer and Peter Mohrs, and Daniel Kemminer are approachable, tuneful and enjoyable, and explore spirituals and tango.
As is so often the case in ensemble work at this level, it isn't the notes that are tricky but the rhythms, and many of these pieces, especially the more contemporary, have a good line in syncopation, accented cross-beats and unpredictable rests, especially in the first violin. The lower parts tend to be straightforward, but the arrangements are interesting and, although supportive, the second violin, viola and cello all have textural interest and detail, even if the tune is usually elsewhere.
Among the earlier items are some familiar pieces: the Sarabande from Handel's Rinaldo (in 3/2, so plenty of counting opportunities), and 'Dance of the Fairies' from Purcell's Fairy Queen (plus his familiar Rondeau from the same source). A less familiar member of the Bach family, Johann Bernhard (second cousin of J.S.), is represented with three pieces, and Telemann, Abel and Franck (Chant de la Creuse – a delightful inclusion, this, where the second violin is given demanding accidentals) add up to a sometimes unfamiliar but always approachable and interesting selection.
The items are short and in a range of speeds, the slow tempos encouraging concentration on the production of warm, sustained tone. With a capable first violin, a group might include players from Grade 3 standard upwards, and the result could be enjoyable performances for festivals and school concerts. An alternative third violin part is available as a download only, mostly identical to the viola.
ANNE INGLIS