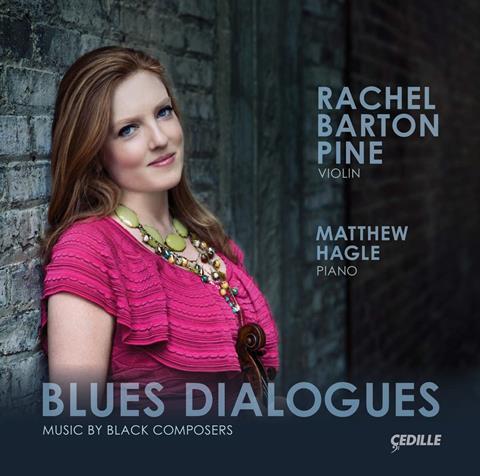 THE STRAD RECOMMENDS
The Strad Issue: April 2019
Description: Pine's 'black and blues' programme is both fascinating and enchanting
Musicians: Rachel Barton Pine (violin), Matthew Hagle (piano)
Works: BAKER Blues, PERKINSON Blue/s Forms, STILL Suite; Louisiana Blues Strut, DA COSTA A Set of Dance Tunes, C.C. WHITE Levee Dance, ELLINGTON In a Sentimental Mood (arr. Logan), D. WHITE Blues Dialogues, WALLEN Woogie Boogie, CHILDS Incident on Larpenteur Avenue, ROUMAIN Filter, BROWN A Song without Words
Catalogue Number: CEDILLE CDR 90000 182
Concentrating on pieces influenced by the blues, this CD is part of a long-running project to research music written by black composers. The oldest of them, Clarence Cameron White's Levee Dance (1927), will be known to fans of Jascha Heifetz, who recorded it in the 1940s, while the most recent, Billy Childs's Incident on Larpenteur Avenue, was commissioned by Rachel Barton Pine for the recording. The longest single movement on the disc at almost eight minutes, this haunting composition kept reminding me of Bernard Herrmann's Psycho soundtrack with its ostinato figures and terrifying shrieks high on the E string.
William Grant Still's Suite, written in 1943 for Louis Kaufman, is the musical counterpart of the writers and artists from the Harlem Renaissance, its three toe-tappingly infectious movements inspired by works of African–American sculptors. Another classic is Duke Ellington's In a Sentimental Mood, heard in Wendell Logan's imaginative setting.
Space constraints preclude commenting on every piece, but each of them merits its place in this fascinating programme, through which Mark Clague's commendably exhaustive liner notes are an indispensable guide. Well supported by Matthew Hagle's fine pianism, Pine's characterful playing makes for exciting listening; she brings forth a wide spectrum of colours from her 1742 Guarneri 'del Gesù' and isn't afraid of reaching into the realms of noise for Daniel Roumain's abrasive Filter while conjuring up the most soothing sounds for Charles Brown's A Song without Words, which brings the CD to its enchanting conclusion.
CARLOS MARÍA SOLARE