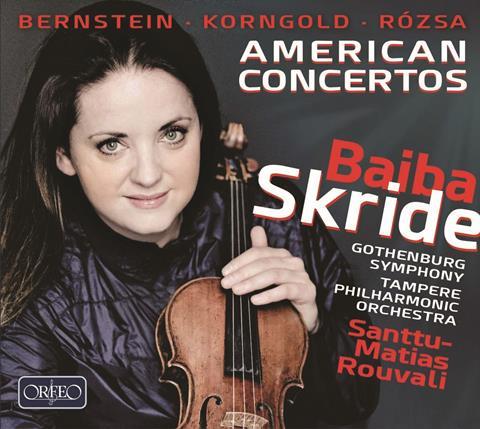 The Strad Issue: December 2018
Description: Persuasive and attention-grabbing versions of a trio of American concertos
Musicians: Baiba Skride (violin), Gothenburg Symphony, Tampere Philharmonic Orchestra/Santtu-Matias Rouvali
Works: BERNSTEIN Serenade after Plato's Symposium; Symphonic Dances from West Side Story, KORNGOLD Violin Concerto, RÓZSA Violin Concerto
Catalogue Number: ORFEO C932 182 A
The formidable Baiba Skride turns her hand to an artfully chosen clutch of American concertos in this two-disc set (see Session Report, July 2018). All three were composed over a single decade, from 1945 to 1954, and share a fascination for opulent, sweeping melodies.
Skride impresses from the outset, grabbing the attention in the haunting opening phrases of Bernstein's Serenade, and describing the violin's expansive line with piercing clarity. Her virtuosity never falters through its five quixotic movements, and particularly lovely is the achingly beautiful fourth movement, 'Agathon'.
The lush orchestral textures of Korngold's Violin Concerto are the perfect foil for Skride's soaring, incisive tone, and she gives full rein to its tender melodies. The slow build of the second movement Romanza is perfectly judged. Skride never allows its yearning phrases to become over-sentimental, and the dashing finale is lithe and lovely, with strong support from the Gothenburg Symphony under Santtu-Matias Rouvali.
Bulgarian-born Rósza's concerto is the least familiar of the three, and structurally seems perhaps a little unwieldy. Yet Skride's playing brings it to life, and the immediacy of the recorded sound lends freshness to the whole. An ebullient counterpart is provided by Bernstein's Symphonic Dances from West Side Story, with the Tampere Philharmonic Orchestra on fine form – a colourful ending to a fine pair of discs.
CATHERINE NELSON