Expressive playing that captures the music's inherent uneasy qualities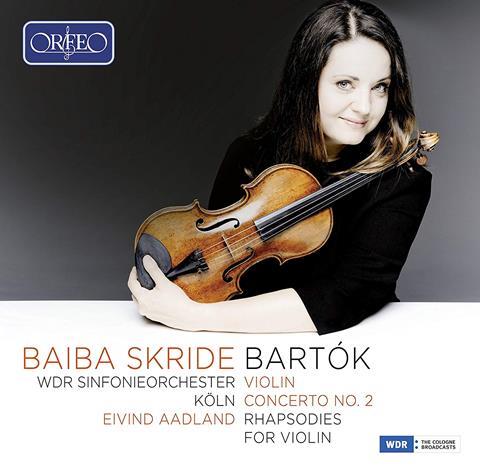 The Strad Issue: January 2020
Description: Expressive playing that captures the music's inherent uneasy qualities
Musicians: Baiba Skride (violin) WDR Sinfonieorchester Köln/Eivind Aadland
Works: Bartók: Violin Concerto no.2; Rhapsodies nos.1 & 2
Catalogue Number: ORFEO C 950 191
Bartók's violin music is a semantic minefield. His ground-breaking creative innovations during the first half of the last century were almost invariably placed in the hands of players whose musical instincts were honed essentially by the mainstream repertoire. As a result, whenever anything remotely resembling a cantabile melody emerged (as at the start of the Second Concerto), the general tendency was to indulge the music with lashings of full-throated vibrato, while characterising the thornier passages with an impassioned intensity that in context tended to play out like wrong-note Tchaikovsky.
By comparison, Baiba Skride captures the sense of unease that destabilises the deceptively confident opening and becomes increasingly overt as the movement progresses, thereby creating an unusual degree of expressive continuity. This spills over into the tender yet disconsolate soul-searching of the central Andante tranquillo and the finale's cris de coeur, which far from finding heroic resolution, create an agonising sense of rhetorical despair.
If anything, the two rhapsodies are even more problematic due to their unsettling fusion of indigenous Hungarian folksong with Western classical techniques. It feels at times as though this music really belongs in a world of cimbaloms (included, admittedly in the scoring of no.1) and dulcimers. Yet by keeping the music (appropriately) with a skip in its tail, Skride succeeds where many others have failed by making a convincing case for the music's stylistic dislocation. Eivind Aadland responds intuitively with deft and articulate accompaniments, captured in sound of alluring transparency.
JULIAN HAYLOCK