Ukrainian composer's quartets are an important addition to the repertoire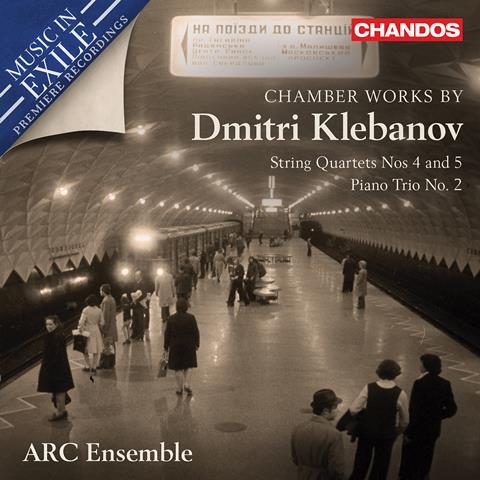 THE STRAD RECOMMENDS
The Strad Issue: November 2021
Description: Ukrainian composer's quartets are an important addition to the repertoire
Musicians: ARC Ensemble
Works: Klebanov: String quartets nos.4 and 5; Piano Trio no.2
Catalogue number: CHANDOS CHAN 20231
The ARC Ensemble's Music in Exile series arrives at the work of Jewish–Ukrainian composer Dmitri Klebanov (1907–87). In an already illuminating series covering music not so much forgotten as never noticed and/or willingly repressed, this may just be the best album yet. Among the highlights of Klebanov's early career was his playing in the first Soviet performance of Berg's Wozzeck. He went on to write symphonies, a violin concerto and the three chamber works included here, much of it having been forced into 'internal exile'. The Soviet authorities liked neither the man's DNA nor his music.
The composer's String Quartet no.4 (1946) uses melodies written by the Ukrainian separatist Mykola Leontovych, including his tune known in the West as The Carol of the Bells. Klebanov's quartet is far more than a medley. It is an agile, clear-sighted, harmonically interesting and tightly argued piece that gets a marinated, stylish performance from the Canadian ensemble whose marriage of technique with considered expression is exceptional. Still, Klebanov's String Quartet no.5 (1965), which followed a political thaw in the Ukraine, is far more expressive. Cryptic pizzicatos precede the second movement Andante's sidle into stringent lyricism, before a climactic third and final movement moves from a ghostly sotto voce to an energetic coda full of intriguing spiked harmonies (including a wildly oscillating imitation of an ondes martenot on the cello).
In between, Klebanov's Piano Trio no.2 (1958) has a French accent, especially in its swirling art nouveau Scherzo. Sometimes you feel the presence of Shostakovich, but Klebanov – with his stern shapes, effective melodies and curious moods – is his own man. Excellent sound, evangelical performances and music that's a thrill to discover (and, evidently, play). Repertoire-hungry ensembles shouldn't hesitate.
ANDREW MELLOR