Beautifully poised performances from a husband-and-wife team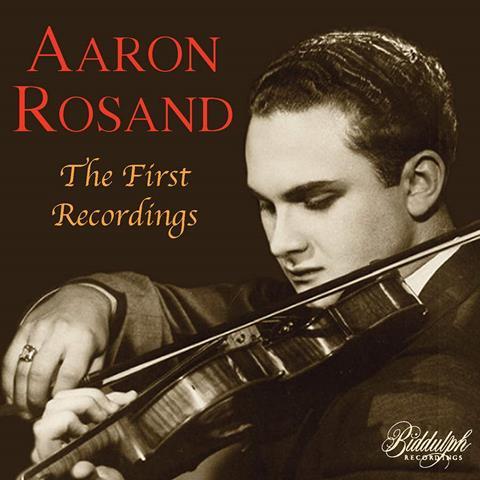 The Strad Issue: February 2023
Description: Beautifully poised performances from a husband-and-wife team
Musicians: Aaron Rosand (violin) Eileen Flissler (piano)
Works: Beethoven: 12 Variations on 'Se vuol ballare' WoO 40; Rondo in G major WoO 41; Six German Dances WoO 42. Brahms: Violin Sonatas: no.1 in G major op.78, no.2 in A major op.100
Catalogue number: BIDDULPH 85021-2
Unable to get a contract with a major record label, the American virtuoso Aaron Rosand (1927–2019) landed – like colleagues such as Bronisław Gimpel – with the enterprising Vox company. His first wife Eileen Flissler was a brilliant sonata partner.
The Brahms sonatas, taped in mono in 1956 when the players were in their late twenties, made up their first LP. The G major displays Rosand's wonderful sound from the first note and the players are clearly at ease with each other in the Vivace, although I could do with a tad more piano in the mix. It sounds as if the mike was adjusted for the Adagio and I have no further balance complaints. The pianist, who sets the tone, ushers in playing of considerable depth from both. Rosand's double-stopping is a joy. The Allegro is sunnier and even when it becomes more strenuous, the couple seem glued to each other.
Flissler begins the A major and is much in evidence. The duo enjoy the surge and back-and-forth nature of Brahms's writing but perhaps others have knitted the episodes together better. Rosand produces lovely tone in the Andante and they enjoy the scherzo-like alternating Vivace. The Allegretto is splendidly done.
The early Beethoven pieces, appendages to the duo's 1961 sonata cycle, are immaculately prepared and played. The rare Brahms disc shows its age in places; the Beethoven is almost too bright.
TULLY POTTER