Boasting one of the longest playing careers in history, Rosand was a committed teacher and one of the last living connections to the golden age of violinists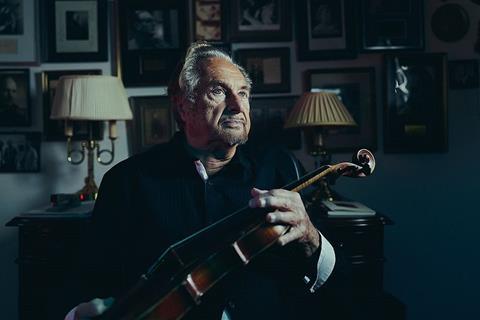 When the American violinist Aaron Rosand, who died yesterday aged 92, performed Bruch's Scottish Fantasy with the Greenwich Symphony Orchestra in 2009, he rounded off a 77-year playing career which – he was justifiably proud to note – shattered Nathan Milstein's record of 72 years.
Rosand would never come across as arrogant, his nature being too affable and generous for anything along those lines, but nor was he falsely modest: he had every right to consider Milstein a peer and his achievement comparable. If anything, as he must have felt too, he deserved to have been more successful. His career, though undoubtedly illustrious, did not end up conferring household name status to him as it did to some of his contemporaries.
Later in life, and with remarkable lack of bitterness, he suggested Isaac Stern had frozen him out of various career opportunities due to professional jealousy – Rosand did not rate Stern's technique very highly – and snobbishness over his accepting commercial studio work to make a steady income.
However, Rosand's commercial work put him in a position to take on the loan with which he bought his 1741 Guarneri 'del Gesù', the 'Kochanski', a decision he is unlikely to have regretted, not least because he was able to sell it for $10m in 2009, at that point the highest price ever paid for a violin.
Rosand was born in Hammond, Indiana in 1927 to a Polish cabaret singer father and a Russian cinema pianist mother. His musical talent was evident early on and the family moved to Chicago to make sure the young violinist had good teaching. He made his recital debut in 1936 at the age of nine and orchestral debut the following year with the Chicago Symphony under Frederick Stock playing the Mendelssohn concerto.
From age 12 he studied at the Chicago Music College with Leon Sametini, a student of Ševčík and Ysaÿe, before joining Efrem Zimbalist's class at the Curtis Institute of Music in Philadelphia.
Acclaimed for his performances of romantic repertoire and his sweet tone, Rosand recorded prolifically and appeared with all the major orchestras around the world, making a particularly busy European career during the 1960s and 70s.
He helped to lead the Romantic Revival in the 1960s, performing forgotten works at Butler University's Festival of Neglected Romantic Music. On Ivan Galamian's death in 1981, Rosand joined the faculty at the Curtis Institute at Zimbalist's invitation. The association shaped the second half of his life, and it is surely as a pedagogue that Rosand made his most indelible mark on the violin world. His love for Curtis was sealed with a $1.5m donation from the sale of his violin.
His teaching style was demanding but also nurturing. 'I don't know of any shortcuts to playing the violin,' he told The Strad in 2007. 'Talent is five per cent. The other ninety-five per cent is work.'
Former students include Stephen Waarts, Stephanie Jeong, Benjamin Schmid, Alexander Kerr and Ray Chen.
Chen wrote today:
'My teacher Aaron Rosand passed away last night. I learned so much from him; his pure, beautiful sound that would shimmer and cry when being drawn from the instrument; his gruff laugh that would often be accompanied by some sort of rebuke telling me that I wasn't sustaining the line enough, or that I needed to "find my own sound".
'He was tough on me, but only because he believed in me. There's not one day that goes by when I don't think about the things he said to me during our lessons. I'm still learning every day thanks to you Mr Rosand. We will miss you, but your legacy lives strong in the wonderful musicians you've produced.'
A short film made in honor of Rosand's 88th birthday in 2015