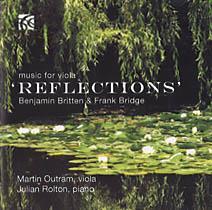 The Strad Issue: January 2014
Description: A pragmatic but rewarding expansion of two composers' viola repertoire
Musicians: MartinuOutram (viola) Julian Rolton (piano)
Composer: Bridge, Britten
Both Benjamin Britten and his composition teacher Frank Bridge were proficient viola players (the latter at professional level), and their writing for the instrument is accordingly idiomatic. Apart from Lachrymae, written in 1950 for William Primrose, Britten's viola compositions date from his teen years. Reflection and the unaccompanied Elegy (the titles are editorial) were published posthumously, as was his brilliant transcription of Bridge's tone poem based on the Queen's speech from Shakespeare's Hamlet. MartinuOutram has himself arranged the second of the Two Portraits (a self-portrait in music, originally for viola and strings) and Bridge's Cello Sonata, a turning point of the composer's oeuvre, which reflects the futile horrors of the Great War. The Two Pieces written by Bridge for Lionel Tertis are joined by the unfinished Allegretto in an edition completed by Paul Hindmarsh.
MartinuOutram is completely within the late Romantic style of this repertoire, which he performs with impressive authority. In Britten's juvenilia he seems to adopt the composer's charmingly idiosyncratic fingerings, and in the Bridge pieces those of Tertis, who edited them for publication. Lachrymae is by some distance the most demanding work, both technically and interpretatively. Outram and Julian Rolton give it a compact reading, each variation finely etched but clearly part of a continuing sequence. Although one could argue with some of the octave transpositions in the Cello Sonata transcription, as a whole it works extremely well. The recording holds up Nimbus's reputation for rich, succulent sound.
Carlos María Solare