US luthier Michael Darnton reviews a collection of violin bridges from around the world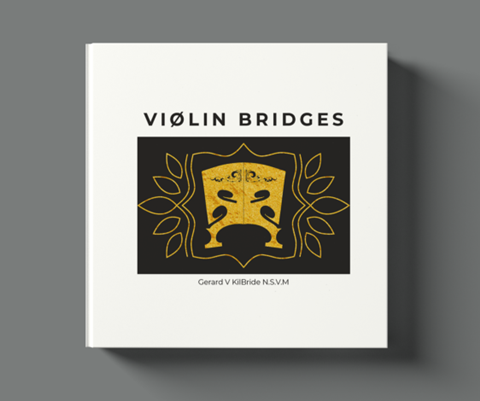 Violin Bridges
Gerard KilBride
220PP [no ISBN]
Black Mountains Press £50
Bridges are funny things: there is room for originality and individuality, but only up to a point. That's what makes it so interesting to see the bridges that other makers and restorers have carved. Every violin shop has a drawer of bridges pulled from old violins. They are saved as reference and as mementos of old shops and competitors, but most collections accumulate by chance and are often limited to bridges from nearby colleagues with only a few distant ones represented.
The best bridge drawer I know of is the virtual one living since 2004 at violinbridges.co.uk, where visitors can see examples of more than a thousand bridges from shops around the world, displayed in clear, oversized photos, and accompanied by measurements of their critical dimensions. Violin maker Gerard KilBride has spent the past two decades actively soliciting contributions from across the globe and has gathered a fine and unmatched collection. I visit the site frequently, just to see the bridges other makers have carved, and often recommend it to new workers to see examples of what they should be doing. But I have always feared this valuable resource might eventually disappear from the ever-ephemeral web (there's no sign of that happening, I should add). I feel much more at ease now that the best of KilBride's collection is available in book form.
The collection spans around 200 years and includes items from the most famous shops of the past. There's an early Betts bridge, six from Withers, three from the Hill shop, a couple from the Chanot shops, and others of note for anyone looking for examples from the old masters. There is a broad selection of modern makers as well, and there are a few quirky examples, including one old bridge apparently pressed from an aluminium sheet.
KilBride's 215-page book is a class act – hard cover, sewn binding, thick pages with semi-gloss printing – and the experience of reading it is every bit as satisfying as the original on-screen experience, missing only the measurements. Recent decades have brought many excellent violin photo books to our libraries, but none like this unique project has given us, and I would have doubted that there would ever be another like it – except that the author notes in his introduction that he's already started work on Book Two.
MICHAEL DARNTON