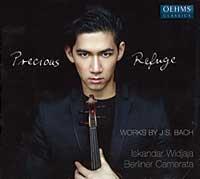 The Strad Issue: January 2014
Description: Freewheeling accounts that would benefit from greater self-control
Musicians: Iskandar Widjaja (violin/director) Berlin Camerata
Composer: Bach
Hailed as 'a true force of nature' for his debut disc (reviewed in The Strad, December 2011), Iskandar Widjaja extends his beguiling sense of fantasy to two of Bach's solo sonatas, playing the slow movements unusually freely and introducing bow vibrato to striking effect at the end of the A minor's Grave. He extends that freedom to the finales, giving them a remarkable sense of forward momentum, and maps out the polyphony of the fugues with clarity, virtuosity and musical purpose. His unabashedly romantic, expressive approach involves a wide tonal and dynamic range and pinpoints harmonic tension and emphasis, but he has a tendency to introduce sudden explosions of sound, accentuated by the reverberant, close-miked recording, which can destroy the overall effect.
Widjaja also gives redblooded accounts of the two concertos, opting for express tempos in the outer movements but interpreting the slow movements with a rapt thoughtfulness and expressive intensity. The finale of the A minor seems too fast for the music's comfort and it is made even more frantic by the articulations employed (including some separately bowed semiquavers), and Widjaja's embellishment of the fermata smacks more of Paganini than Bach. Overall, his artistic imagination and interpretative freedom are refreshing but could benefit from some reining in.


Robin Stowell