In this throwback to an interview from 1999, Hilary Hahn shares why she finds inspiration in the playing of great violinists including Brodsky, Elman, Milstein, Kriesler, Grumiaux and Heifetz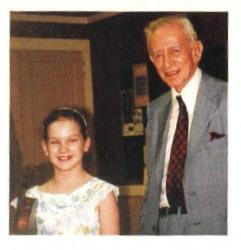 The following is an extract from the article 'Hilary Hahn: Born Original' from November 1999. To read the full article, click here
Jascha Brodsky's stories were a source of endless fascination for Hahn. 'Eugène Ysaÿe was born in Belgium in the 1850s; Brodsky studied with him in the 1920s in Paris. So I had a direct connection to the middle of the 1800s. Brodsky told me stories about Ysaÿe. He told me about how he played Prokofiev One with Prokofiev conducting, and he told me about when he played ping-pong with Heifetz. And he told me about when he first came to the States under Elman's wing to study at Curtis with Efrem Zimbalist.
'Before I came to Brodsky I'd listened to a lot of Heifetz and Arthur Grumiaux. When I came to Brodsky then I got to know them better through him, and I also started listening a lot to Kreisler, Elman and Milstein, and also Brodsky's recordings. Probably my greatest influences besides my teachers were Kreisler, Heifetz, Elman, Milstein, Grumiaux and Brodsky's recordings.'
Why? 'Each one plays so individually. But they're all very compelling. Elman's tone is amazing. His phrasing is incredible. His rhythm is really free, which some people don't like but which I actually learned a lot from. Kreisler has an amazing style, so classy. Heifetz has this intensity to his playing that I haven't heard in anyone else, and he does things that are really erratic but he makes them work. And Brodsky was just such an aristocrat. He had a lot of character and depth in his playing but also exquisite style - so emotional, but also held in a certain way so that not everything is hanging out for everyone to see. And Grumiaux's taste. And Milstein - I love the cleanness of the playing - there's something that's impeccable about it - he's very pure.'
What does Hahn think about the increasingly common laments over the internationalism of sound, over the fact that young violinists are beginning to sound more and more like each other? 'The great thing about being a musician now is having access to all those recordings. You can hear how all the great violinists used to play and how they interpreted the pieces. They're so different from each other. And you can combine all those influences into your own playing. But everyone takes different things from different sources, and they did back then too. There are only so many ways you can play a piece!
'If you listen, Gil Shaham doesn't play like Maxim Vengerov, and Sarah Chang doesn't play like Leila Josefowicz - none of us plays like each other. I don't know anyone else who plays the way Midori plays, or anyone who plays quite the way that Vadim Repin plays. And it goes for all instruments and all players. We all have our own identities, it's just that a lot of us are younger now; we don't have the 60-year discography that the older players have. Everyone is still developing. Even the people who are in their 60s are still learning and changing their interpretations.
Read: Hilary Hahn: Born original
Read: Heifetz as teacher: Words from the master
Read: 'Don't write it down. Remember it!' - Inside Jascha Heifetz's teaching studio