Shirley Apthorp interviewed the then 19-year-old violinist Hilary Hahn for The Strad's November 1999 issue. Here, Hahn shares her love of writing, solo Bach, her educational background and her insights on the great violinists of our time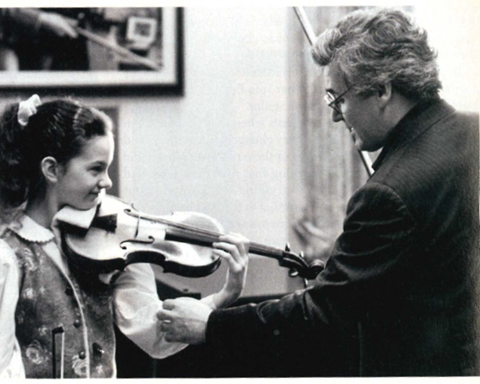 'I've got this project,' says Hilary Hahn, tucking her feet up comfortably beneath her on the leather couch. 'Postcards on the Internet. Do you know it?'
Umm. Well. There's a way of choosing and sending an internet postcard by email. Is that what she means?
'No, no.' She's not impatient - she must be used to the slowness of the older generation. 'I've got a website. You go to www.sonyclassical.com - if you click on my name you can get to my website through Sony. I've been writing this series - over 30 postcards. I send them by email. I have a digital camera with me, so I take pictures and send them electronically and I write about stuff I'm doing on the road.'
Is that so surprising? She may be the first young soloist on the world circuit to dream it up, but it's the kind of thing you could expect from a fiendishly intelligent 19 year old working out ways of keeping in touch while trotting the globe.
An interest in words and writing is less of a given in the field of musical performance, but to Hahn that's also perfectly normal. She pens sleeve notes for her own CDs. 'Brilliant and mercurial,' she writes of the Bernstein Serenade, 'it strikes me with the freewheeling force of a sophisticated street argument.'
Wow. Where did that come from?
'Alfred Brendel writes a lot, too,' she says in self-defence.
You can't catch her out. Everything that Hilary Hahn does is, to her, is the most natural thing in the world. And that's how it comes across.
Watch her playing the Shostakovich First Violin Concerto - in this case, with the Rotterdam Philharmonic under Jurjen Hempel. Diminutive on stage, she looks more like 14 than 19. There's no affectation, just boundless self-assurance. And then this huge sound, an incredible concentration, a remarkable musical intellect. For violinists of any age Shostakovich One is a tricky concerto to pull off, with its vast, sprawling form and huge repertoire of epic expression. But Hahn has an innate grasp of the structure. From the first note to the last she knows exactly where she's going, and she communicates this with compelling precision. Reassuringly, she doesn't play like a tormented 45 year old. That degree of empathy with Shostakovich's bleak experience is impossible, but also (hearing her you can believe it) unnecessary. She plays like an exceptionally gifted 19 year old who loves this music, and who has wonderful insights about how to make it work.
'I feel my age!' she laughs. 'It's weird because I used to think people who were 15 were so old - when I was eight or nine - and now I'm almost 20 and I don't feel any different from how I did when I was ten or twelve. Shouldn't I be feeling really old? But no, I feel like myself, and I don't feel like any particular age because I work with people of all different ages
'I have at least 50 or 60 years of playing still ahead of me. I've played for about 15. So I see where I've come and I see how much I could do. I know what I'm going to be doing for the rest of my life.'
Sensible parenting and good advice from her supporters are two reasons why those of us outside the US didn't start hearing about Hahn until a couple of years ago. She'd been around before that: studying with Klara Berkovich in her home town of Baltimore; giving her first full recital at the age of ten; moving straight on to Curtis Institute under Jascha Brodsky; completing her graduate requirements there by the time she was 16. She could have been giving a hundred concerts a year on the international circuit by the time she was twelve. But she didn't. 'I got lucky, I guess,' she says disarmingly, 'because I was in the right place at the right time.'
Conductor David Zinman and members of the Baltimore Symphony Orchestra heard her rehearsing for a recital when she was ten and took her under their wing. The relationship has continued ever since. 'David Zinman always gave me very good advice. Like to stay in school until I was ready, also not to go to management too soon or record before I thought I was ready. All my teachers at Curtis, the administrators at Curtis and the Baltimore Symphony, they all said the same thing. So when the time came I knew it was right.'
For Hahn, the time was right when she was 16. She had signed up to the management firm IMG and agreed to an exclusive recording contract with Sony Classical; there was a European tour with the Bavarian Radio Symphony Orchestra; there was her Carnegie Hall debut. Sony asked her what she wanted to record for her first CD. 'Solo Bach,' she said without hesitation, to their horror.
Even Jaime Laredo, who had taken over the role of mentor when Jascha Brodsky died, was a little nonplussed. 'I didn't think it was the best idea,' he told the American magazine Newsday in a subsequent interview. 'But then I heard her play the Bach D minor Partita in Curtis Hall. It was, bar none, the best performance I've ever heard of that piece.'
Meanwhile, distinguished colleagues have waited decades before daring to record the same repertoire. Hahn shrugs. 'I guess everyone speaks for themselves. For me the Bach was my most played repertoire, so in a way it made the most sense to record it. The other great thing was that it was solo, so l could have as much time as I wanted to record it. I recorded it over the course of about a year and three months, and we would work through the night. And since it was Bach everyone knew how important it was to get it just how I wanted it, and I had a lot of support.'
The next recording was doubly daring - the Beethoven Violin Concerto and Bernstein's Serenade. 'The Bernstein came to me completely by chance,' Hahn writes in her sleeve note. 'I had never heard of it until 1993, when I was invited to play it as a soloist at an American festival in Budapest.
'When I told Mr Brodsky about the invitation, he blanched and asked if l couldn't play something else. He did not ask just once. For weeks, his standard greeting at my lessons was, "Hello, sweetheart: any news from Budapest?" And yet, when it was clear that only Bernstein would do, my distinguished 86-year-old teacher locked himself away for several hours of practice a day for weeks, explaining simply that he couldn't teach me something he didn't know himself. As we studied the Serenade together, we came to relish its American idiom, its dark bravura, its jaunty cheekiness. Mr Brodsky is gone now, but every time I play this piece, I remember his question, "Any news from Budapest?" - and I am as glad as he was that the answer was always, "No, still Bernstein".'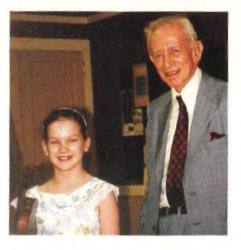 Brodsky must have been a formidable influence. Upon his death in 1997, Hahn dedicated her solo Bach CD to him. He lived to be 90; he was 73 years her senior. 'A lot of teachers take the students when they first get them and change some basic thing. They change the they way they hold the bow or change the technique or the outlook on music,' she says. 'Brodsky just took everything that Mrs Berkovich had taught me, which is basically everything that I can do right now, the technical things, and took that to the next level, devel­oped everything and refined it more towards my being able to do everything on my own. He gave me my independence. When I started studying with him, if I was going to learn a new piece I would bring it in and he would give me fingerings and bowings and so on. And then when I was about twelve or thirteen, he started saying, "Why are you bringing me this piece? You could do it. Just go ahead." By the time he died I was ready to do everything without a steady teacher and with­out a lesson every week. He took me through a very crucial stage in my development.
'He was very warm and sweet, but he had high standards - he was tough at times - he was the best kind of teacher for me. And I knew that if he said something was good it was good, because he wouldn't say something was good if it wasn't.'
Brodsky's stories were a source of endless fascination for Hahn. 'Eugène Ysaÿe was born in Belgium in the 1850s; Brodsky studied with him in the 1920s in Paris. So I had a direct connection to the middle of the 1800s. Brodsky told me stories about Ysaÿe. He told me about how he played Prokofiev One with Prokofiev conducting, and he told me about when he played ping-pong with Heifetz. And he told me about when he first came to the States under Elman's wing to study at Curtis with Efrem Zimbalist.
'Before I came to Brodsky I'd listened to a lot of Heifetz and Arthur Grumiaux. When I came to Brodsky then I got to know them better through him, and I also started listening a lot to Kreisler, Elman and Milstein, and also Brodsky's recordings. Probably my greatest influences besides my teachers were Kreisler, Heifetz, Elman, Milstein, Grumiaux and Brodsky's recordings.'
Why? 'Each one plays so individually. But they're all very compelling. Elman's tone is amazing. His phrasing is incredible. His rhythm is really free, which some people don't like but which I actually learned a lot from. Kreisler has an amazing style, so classy. Heifetz has this intensity to his playing that I haven't heard in anyone else, and he does things that are really erratic but he makes them work. And Brodsky was just such an aristocrat. He had a lot of character and depth in his playing but also exquisite style - so emotional, but also held in a certain way so that not everything is hanging out for everyone to see. And Grumiaux's taste. And Milstein - I love the cleanness of the playing - there's something that's impeccable about it - he's very pure.'
What does Hahn think about the increasingly common laments over the internationalism of sound, over the fact that young violinists are beginning to sound more and more like each other? 'The great thing about being a musician now is having access to all those recordings. You can hear how all the great violinists used to play and how they interpreted the pieces. They're so different from each other. And you can combine all those influences into your own playing. But everyone takes different things from different sources, and they did back then too. There are only so many ways you can play a piece!
'If you listen, Gil Shaham doesn't play like Maxim Vengerov, and Sarah Chang doesn't play like Leila Josefowicz - none of us plays like each other. I don't know anyone else who plays the way Midori plays, or anyone who plays quite the way that Vadim Repin plays. And it goes for all instruments and all players. We all have our own identities, it's just that a lot of us are younger now; we don't have the 60-year discography that the older players have. Everyone is still developing. Even the people who are in their 60s are still learning and changing their interpretations.
'I used to think standards have changed because Heifetz brought a new level of expectations, but then I wonder how many people played Bach in Bach's era if they couldn't play as well as they do now'
'It's kind of hard to compare our generation to the people who are already dead who've got this whole legacy of recordings, because if you listen to Heifetz's playing when he was 18 and you listen to the way he played when he was 60, it's like two completely different players. But if you compare Heifetz and Elman when they were the same ages, when they were young, neither has quite developed into the player that they are later. And as they develop they go further away from each other and get their own voices. They studied with the same teacher, but they still played very differently when they were young. So I think the issue is more what stage we are in our careers.
'A lot of people think that the standards of technique have changed now, but if you listen to people like Marcel Huberman, who was one of the great violinists from the pre-Heifetz era and recorded the third movement of the Mendelssohn Concerto, he was an amazing technician and he plays that piece as well as anyone I know now. And Ysaÿe - some of his playing is incredible.
'I used to think that standards have changed because Heifetz bought a whole new level of expectations, but then I wonder how people could have played Bach back in Bach's era if they couldn't play as well as people play now.' So what does she make of George Bernard Shaw's scathing account of Joachim playing solo Bach? 'I've heard those recordings,' she repllies. 'And it's nothing technical. It's simply style. And I don't think it was like that at all. I think it was just Shaw's personal preference.
'Of course, techiques have changed. With each era people play differently. Mr Brodsky always told me that - I would be playing a certain piece and he would say, "Oh, here I remember Zimbalist did this certain slide or this certain bowing, but sweetheart, don't do that, people don't do that now…" But I kind of like the way they used to play. The flair and style and taste they had. Perhpas the flapper days will come back.'
By this stage the interview has run well over time, but it's awfully difficult to stop. Anxious minders pop in at regular intervals to point out the problem, but she dismisses them amiably. She knows what she's doing.
There's so much more to talk about. Her next recording will be a new concerto by Edgar Meyer, which she commissioned herself, and the Barber Concerto. She's phenomenally articulate on the question of ther tour repertoire. Then there's travel and languages - she's been learning German since she was twelve; she'll do French next. Meanwhile she tries to announce her encores in the language of whatever country she's in - Lithuania was the biggest challenge so far.
She'll keep her apartment in Philadelphia for the time being, but maybe move back to Baltimore later on. Chamber music remains important. There's no area of the repertoire that doesn't interest her.
And her first novel? 'Oh no, I don't think so,' she laughs. 'Too many other people write books already.'
Read: How I warm up: Hilary Hahn
Read: 'Planting seeds for my relationship with music' - Hilary Hahn and the Suzuki method
Read: 'I think there's a feeling that you expect out of an encore' – Hilary Hahn