The Swiss cellist compares himself to a quattro stagioni pizza of the combined influence of his teachers. From September 2008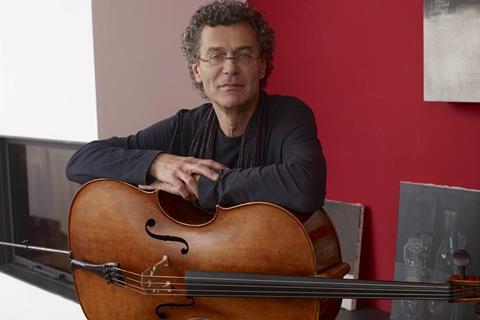 A lot of my training was in the French tradition. I started learning at the age of six with Charlotte Georges, who was herself a pupil of Pierre Fournier. Then, when I was 13, I began studying with Walter Grimmer at Berne's Musikhochschule. He had been a student of Maurice Gendron, whose teaching methods he exactly copied. Grimmer expected his students to annotate the music – with fingerings in red and bowings in blue – before they started practising a piece.
All our lessons were based on copying Grimmer, so we learnt mostly through watching and listening, which was the way he had studied with Gendron. He didn't give us much explanation though. If you copied him absolutely, you would be doing everything correctly. When people are talented enough to learn in that way it works easily, like a child learning to walk.
Grimmer was strict and demanded a great deal. He taught using a thorough technical programme of scales and exercises. Sometimes he would bring all his students together and call on one of us to play scales in front of the others, so if you hadn't practised thoroughly it was obvious to everyone. He always said you should practise so that if you were woken in the middle of the night you would be able to play the most difficult pieces perfectly.
We did a lot of studies and exercises by Feuillard, Popper and Piatti, all of which we had to learn by heart. Once, after I had worked on Popper's first book of ten studies, Grimmer asked me to come in the following week and play them all from memory. He also set us the task of learning many concertos by lesser composers such as Bernhard Romberg and Karl Davidoff. A lot of firm technique is called for in those pieces, and you have to play them very well to make them sound like good music.
I think it is wise for a teacher not to give students great music too early, but I don't have the patience to do this with my own students – I can't stand those pieces any more.
I am very grateful for the training that Grimmer gave me: I can still learn things by heart very easily, and copying the way other people play is an important part of playing chamber music. However, there were drawbacks in having to copy him exactly. Although he had a flexible wrist, he had a very tight bow grip, which was something I later had to correct in myself.
But another time I had a problem with vibrato, which felt very tight, and I lowered my wrist to loosen it. I asked Grimmer if that was all right and he said, 'Yes, Gendron does that too.'
When I was 20, I moved on to study with Antonio Janigro in Stuttgart and Salzburg. His technique came from Diran Alexanian, and involves a thoroughly thought-out, technical fingering system, in which relaxation of the left hand is the key. Janigro's bowing arm, too, was very relaxed. Unlike Grimmer, he would put the music first rather than the cello, and he would discuss technical points in terms of the music we were playing, such as the use of vibrato in the shaping of a phrase.
Musically, everything he did was meticulous, and he talked a lot about issues such as where the weight should be placed in a phrase, and avoidance of false accents. Technique, he said, can be learnt from repertoire, and you can create studies and exercises from difficult passages in a piece. I still agree with this. If someone can't do spiccato, there is no point in giving them a special spiccato study: they won't be able to play that either.
I was fascinated by the playing of Leonard Rose, but I never heard him live. When I heard him play Tchaikovsky's 'Rococo' Variations I was amazed by his sound, which was sort of scratchy and earthy. It was completely new to me after the French elegance I was used to. I went to study with Rose at the Juilliard School, but unfortunately he was almost never there because he was always touring, and I didn't really get much from him when I did have a lesson. He would spend half of it talking about Yo-Yo Ma, whom he also taught, then I would play a few notes and he would say, 'You're so talented.' He was a very nice man, but there was no system to his teaching.
Still, while I was at the Juilliard School I had a lot of chamber music coaching with Robert Mann, the first violinist of the Juilliard Quartet. He particularly stressed that chamber music players have to listen to each other and imitate sound and phrasing.
One of the greatest experiences I've had was attending Rostropovich's masterclasses in Basle: the six weeks I spent there were like two years of studying with anyone else. He never touched the cello, but accompanied his students from memory at the piano, going into the music with great intensity.
He would compare music to normal life: there is one part of the 'Rococo' Variations that he equated with being in a rush, and having to worry about whether you have forgotten anything. When he talked about music in that way you immediately knew how to play it. But he never said a thing about technique.
Overall, I feel like a Four Seasons pizza with a topping of Gendron–Grimmer, Janigro, Rose and Rostropovich.
Interview by Tim Homfray
This article was first published in The Strad's September 2008 issue