Despite a shaky beginning, Prokofiev's Violin Concerto no.2 has become one of the most beloved pieces in the Russian violinist's repertoire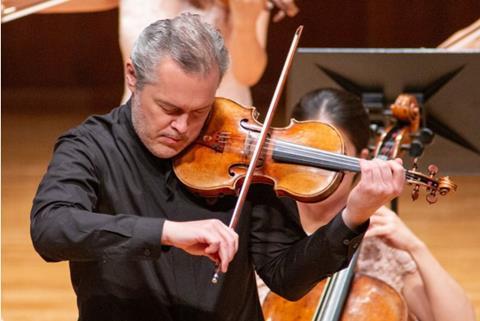 Prokofiev's Second Violin Concerto is an amazing piece of music, and I enjoy it every time I play it. I think Prokofiev was a visionary with his own unmistakable harmonic language, and this concerto takes you from a magical beginning to the coda of the finale that sends your brain absolutely wild as there's no logic to it whatsoever – every bar has a different number of beats, and the ending is so manic that it's impossible to learn methodically. It's just something you have to get into your blood so you feel completely confident and in control.
The first time I performed it in public, I certainly didn't feel like that. It was in 1990, the year after I won the Queen Elisabeth Competition, and I was scheduled to perform alongside Valery Gergiev at the Concertgebouw. I knew Prokofiev's First Violin Concerto by heart but had never practised the Second, though I knew the music from recordings. Then a week before rehearsals, I learnt I was supposed to be playing the Second Concerto with them, not the First! I asked if we could play the First instead, but someone else was already booked to play it in another concert. So I decided to learn it, practising day and night – I remember it as four days and three nights of constant work. I couldn't risk playing it by heart, and performed with the sheet music in front of me on the night, although I played it from memory at the rehearsal. Then for a long time after, I had a mental block – I just couldn't perform it on stage without the music.
It was only a few years later that I managed to overcome it. I had an invitation from the Orpheus Chamber Orchestra in New York to play the Concerto with them a year later. They play without a conductor, and expect the soloist to share his vision of the piece. I decided that this was the chance to forget everything I'd done with the concerto before, and relearn it from scratch. I invested a whole month in it, going back to the score, and it became one of the most beloved pieces I've ever learnt. For the first time I felt confident with the music – we gave five concerts including Carnegie Hall and the memory of that tour still gives me goose pimples even now.
To my mind, the first movement is a poetic Russian fairy tale, like a piece by Rimsky-Korsakov or Mussorgsky. It takes you on a musical journey, sometimes dramatic, sometimes grotesque and an ending that suddenly becomes as profoundly tragic as Romeo and Juliet. The beautiful theme of the second movement has a unique sense of being never-ending. The recapitulation at the end of that movement, with just the strings and the solo violin, has a tangible quality as if you can reach out and physically touch its beauty with your fingers.
The 'perpetuum mobile' theme is part of the whole idea of this concerto. I often tell conductors that it reminds me of a kaleidoscope – its palette of colours changes constantly, without any warning. The way of connecting the episodes in the second movement is so sudden and unexpected that every performance feels like a different creation. At the same time, the challenge is to convey this kaleidoscopic effect to the audience sitting 50 metres away. It's one of the concerto's many challenges, to figure out how much you can sacrifice this show of musicality and showmanship to the purpose of the score.
This article was published in the August 2020 TwoSet Violin issue

The YouTube comedy duo discuss graduating from viral videos to sold-out stage shows. Explore all the articles in this issue.

More from this issue…