The violin and piano duo reflect on the uniqueness of Robert and Clara Schumann's music ahead of a new recording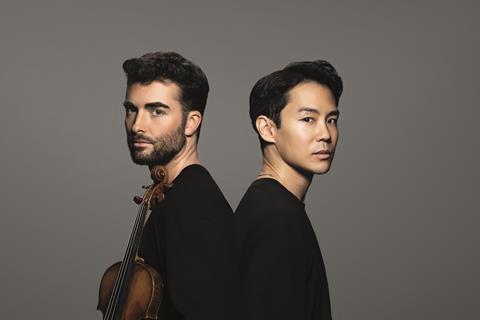 Discover more Featured Stories like this in The Strad Playing Hub
Ahead of their album release Solitude, featuring works for violin and piano by Robert and Clara Schumann, Dutch violinist Niek Baar and American pianist Ben Kim sat down for a conversation on what the music means to them.
The discovery of Robert Schumann
Ben Kim: How did your discovery of Robert Schumann's music begin?
Niek Baar: For me it started when I heard the recording of Robert Schumann's Violin Concerto by Isabelle Faust. Of course I had appreciated his music and performed his works, but something about that recording really made me fall in love with the composer. Almost counter-intuitively, Schumann builds the violin part very close in register to the other instruments, often playing in unison which gives a gritty texture that I didn't realise could be so appealing.
BK: For pianists, Robert's music is the bread and butter of our upbringing, like Bach and Beethoven. Having said that, Schumann didn't truly fall on my radar until, as funny as it may sound, I, being astrologically a Gemini, started working with a Gemini teacher who showed me the Gemini-ness of Schumann, when she introduced me to his First Piano Sonata. Suddenly what sometimes sounded like obsessive cacophony suddenly clicked and made sense. (I'm not astute astrologically in any sense otherwise.)
The discovery of Clara Schumann
BK: Robert's wife, Clara Schumann, was a prolific figure, equal partner to her husband in many ways. But we barely knew her works as a composer.
NB: Yes, Clara. I used to see her, I admit quite crudely, as the supporting figure of Robert. I knew they were the power couple of their time. But as I dug into Robert, I understood that Clara's role – encompassed not only as composer but a performer, a teacher, a critic, an editor, a PR manager, a mother, a wife – showed me more fully who she was as an artist and to see her music in a new light.
BK: Also, it's astounding how much she pushed the envelope as a woman navigating a world essentially made by white men for white men. I can't imagine the kind of force of nature she must have been to pave a way for herself in her time. While still being what she herself considered to be the dutiful wife, locking Robert in his study to develop and thrive, managing his career, and raising no fewer than eight children. One can easily say she was 'great for a woman for her time' but through that lens she was in so many ways even greater than her male peers, not just Robert but Brahms, Liszt, Chopin and the countless other artists they supported in their careers, alongside her own very successful concert career as a pianist.
NB: Yeah, it was such a symbiotic relationship. Robert absolutely couldn't be Robert without Clara, and vice versa.
BK: It's so hard to undo the bias that we grew up with. The ridiculous notion that a woman can't conduct, for example, was such a crazy centuries-long phenomenon. Thankfully that's finally changing. So I think part of what made us fall in love with Clara was hearing her music through this lens. The lens of accepting her fate as a woman but somehow still bulldoze through her world in her own way.
NB: Wasn't there this famous quote by Clara, that a woman must not desire to compose? It's so sad and touching to hear those words through that perspective.
BK: Yes, Clara lived a full life to age 77, yet stopped composing at 36. Imagine that her creative output ends with Op. 23 versus Robert's 148, pushing out compositions till the moment he was admitted into an asylum at age 44, two years before he died.
NK: Clara spent her life curating her husband's greatness, as guardian of his memory even after his death, editing his works and cutting out what she thought didn't fit his image, ultimately preventing the publication of his third violin sonata featured on our album.
BK: Yes, to imagine it was first published in 1957!
NK: I still meet violinists today who have never heard of the sonata.
I knew they were the power couple of their time. But as I dug into Robert, I understood that Clara's role showed me more fully who she was as an artist and to see her music in a new light
About playing Schumann
Playing works by Robert Schumann isn't particularly thankful, or immediately or physically inviting to the player or listener. At first, at least.
BK: I wonder if it's in part due to his unique writing style especially for the violin. Democracy is also divided differently than in the music of other composers. Most traditionally, if you hear the first 'duo music' with piano there is a kind of my turn, your turn element. Good composers thought about placing the instruments in different registers to be clearly heard. With Robert Schumann, it's as if he wants to turn the piano and violin into siamese twins. Melody and countermelody switch very quickly, sometimes even within a bar. It's much less about 'taking turns' in the traditional sense.
NB: That way the piano and violin melt together to sound like a singular instrument. A sound really unlike anything else. Especially in the pieces that perhaps were even too far ahead of Clara's time, like the third sonata, which pushes the boundaries of both instruments, showcasing their technical possibilities and defying expectations. Both the second and third sonatas unveil a universe of their own, filled with daring rhythmic interplay and new harmonic colours.
BK: Clara does this too, but less. In the Romances we recorded, you can hear her avoiding boxes, traditional symmetrical shapes, or working against the natural grain to produce a new sound. It's simpler, but you can definitely hear a common language between them. You also hear the concert pianist in her.
NB: Clara's Romances, Op. 22, are written five years after her previous work, because she had three more kids and her eldest son died, all the while revising and editing her husband's works, chronologically sandwiched between Robert's second and third violin sonatas. That summer she'd lay her pen down forever. Robert would be admitted into an asylum the following year.
BK: On their own, the Romances are beautiful to listen to, but it's impossible not to be touched nearly to tears hearing these pieces through that context.
Partnership
NB: Interestingly Clara and Robert would write compositional 'messages' to each other, often quoting a line from the others' works. She actually quotes his First Sonata in her Romances, embedded in the lines like a secret love letter.
BK: Yes, another reason why we chose to include her Romances instead of Robert's first Violin Sonata. It pays tribute not only to their partnership but also to ours. Wouldn't you agree, that for such intricate music to really become alive, the reward to being yearslong duo partners is tenfold? A partnership forged and earned through time and friendship. That's why it was rather easy to select these pieces for our debut album.
NB: Yet, solitude somehow seemed fitting for the theme for partnership, whether artistic or lifelong, because it is ultimately about procuring and enriching yourself with another person. But in the end, to be free, you're alone. The handshake motto between Schumann, Brahms, Joachim, and Dietrich. F-A-E, frei aber einsam. And yes. I agree.
Solitude is released on Channel Classics digitally on 1 September 2023, with UK release on 8 September 2023.
Watch Niek Baar and Ben Kim perform Robert Schumann's Violin Sonata no.3: III. Intermezzo: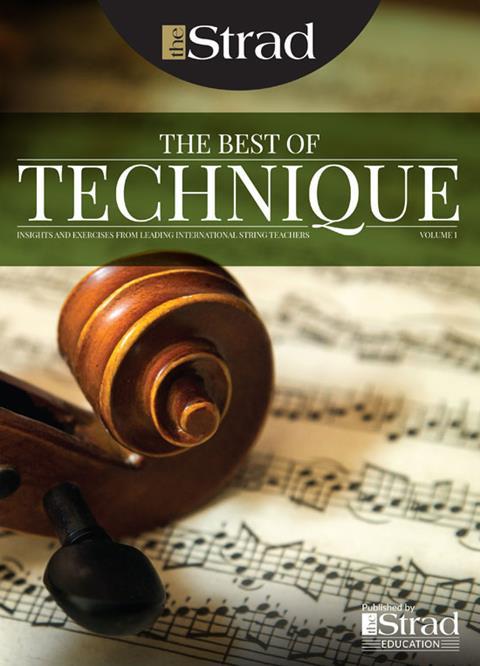 In The Best of Technique you'll discover the top playing tips of the world's leading string players and teachers. It's packed full of exercises for students, plus examples from the standard repertoire to show you how to integrate the technique into your playing.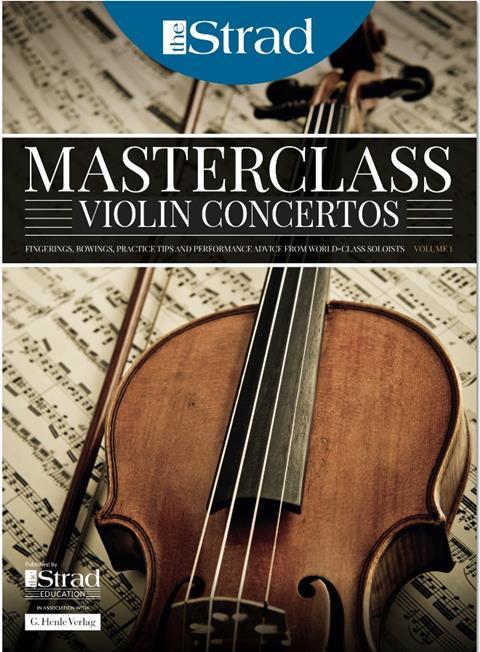 The Strad's Masterclass series brings together the finest string players with some of the greatest string works ever written. Always one of our most popular sections, Masterclass has been an invaluable aid to aspiring soloists, chamber musicians and string teachers since the 1990s.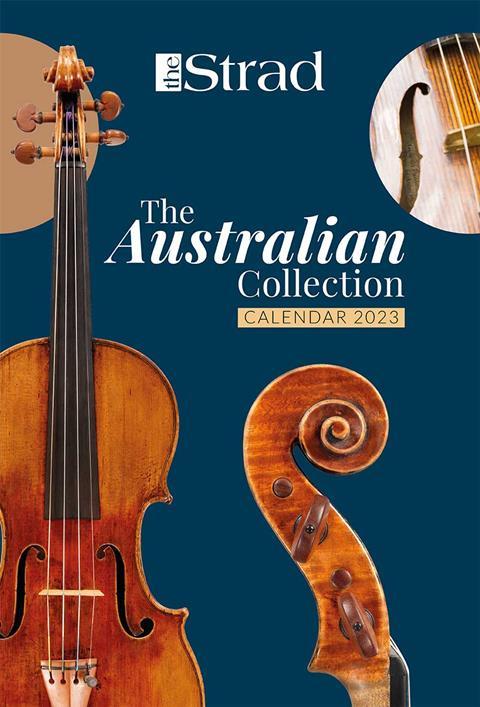 This year's calendar celebrates the top instruments played by members of the Australian Chamber Orchestra, Melbourne Symphony, Australian String Quartet and some of the country's greatest soloists.