Marking his 75th birthday, composer Michael Stimpson tells a story of survival through the recording release of his work Tales from the 15th Floor on 5 October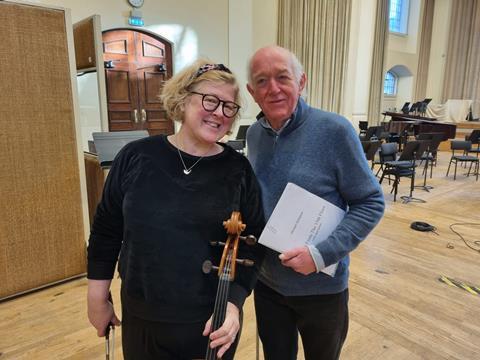 Discover more Featured Stories like this in The Strad Playing Hub
The direction of my musical life was dramatically changed in 1977, when, still in my late twenties, I was admitted to Charing Cross hospital in London having contracted a rare virus, Guillain-Barré Syndrome. Within a week I was totally paralysed and spent over four months in the intensive care unit, mostly unconscious but brought to awakening as procedures necessitated.
The prominent memory is the intensity and nature of the hallucinations which resulted from regular injections of morphine to ease the pain. They felt like they lasted for days, and on ending could often repeat exactly. They were vivid, intense, and often extremely frightening. All communication, when I was awoken, was by my blinking at the correct letter in a spoken alphabet, and I was surprised at how little dramas built around me to form some sense of normality. Unfortunately at some point I had come to consciousness to find that I could only see a tiny amount and have remained registered blind since then.
Eventually I came out of intensive care and one day, around five months after the illness began, I found that I could move my shoulder slightly. Guillain-Barré attacks the myelin sheath of the nerves and so as they re-activated gradually, a week or two later I could just lift my hand. Months of physiotherapy, enabled me to proceed via wheelchair and zimmer frame to eventually be able to walk unaided. With very limited employment options I decided to try and learn my instrument again (classical guitar), but I found that nerve damage prevented any hope of high level performance, changing to writing projects before focusing on composition.
Occasionally it has been suggested that I should write about my hospital experience, but instead I wrote a piece of music which had the events in ICU as its background. Scored for cello and piano, Tales from the 15th Floor was premiered and toured in Italy in 2006. Now recorded by cellist Karen Stephenson and pianist Sophia Rahman it is set for release in October 2023.
Before writing more directly about the piece I should put it in the context of my composition at the time. Although I was in the process of gradually moving away from using more formal structures towards feeling that a contemporary connection was of equal importance, Tales is a piece with a foot in both camps. The first movement has the bones of sonata form, and the third is set as a rondo, with three episodes and coda, whereas the second movement is absent of structure. But in reality adherence to formal structures is just not me, and as with a first string quartet based on the breakdown of apartheid written a few years before (Robben Island, premiered and recorded by the Allegri Quartet), I was content to give equal status to the inspiration behind the music.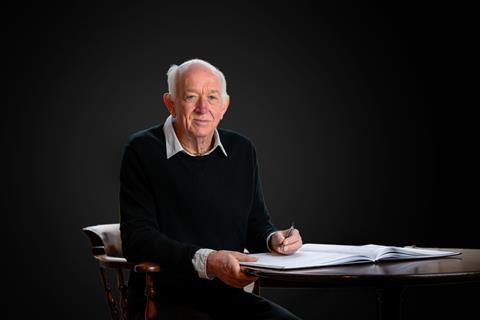 However, I also should be cautious of inventing connections when they weren't thought of at the time of writing. Undoubtedly the opening of Tales by the cello was intended to be dramatic, referring to a fear of the unknown as, feeling so unwell, I staggered along the Fulham Palace Road holding on to anything from sandwich board to lamppost until I arrived at the hospital. Three days later, on New Year's Eve night I just about made the window and saw a spectacular view over London, the last thing I saw with normal vision, before my legs gave away and I crashed to the floor. It strikes me now that the first chord of the piano is an echo of that. (listen)
Obviously, the ICU is a place of extreme tension, sadness, and sorrow. But equally it can be quiet, gentle, and peaceful, and these all form the opening of the second movement where the solo piano leads to a cello line that illustrates the loss and separation felt by patient and family. (listen)
Karen and Sophia play this movement beautifully, enhancing the eeriness of the ICU, illustrated in a pizzicato section for the cello and the release of emotion that follows. When hearing the first edit of the recording, I realised how reminiscent this was of the bleeping machines in the ICU but this was not intended when I was writing the music. Their slower tempo heightens the full force of the climax of the movement - after some months paralysed I was waiting and waiting for the turn around, a sign that the worst had passed. Although not religious, out of desperation I even tried to say in my mind The Lords Prayer but although we said it hundreds of times at school, I couldn't remember beyond the first line. Ah well, perhaps it worked anyway. (listen)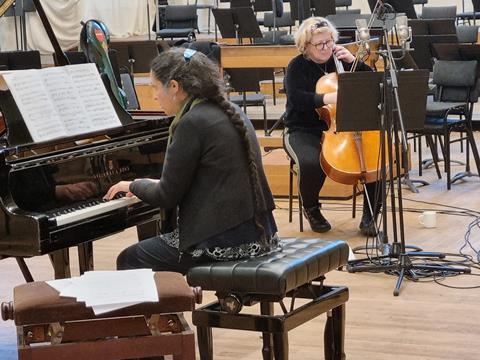 It is the third movement which contains reference to the hallucinations and in a particularly terrifying one Frank Sinatra was trying to kill me. We were in a room where the wall was surrounded by people's faces in picture frames, there was a blank one, and I knew as he tried to grab me that if I ended up there then that was the end. I have always felt that this would have been when my parents were called in to say that my heart was beginning to fail. I used the rhythm and feel of Sinatra's 'New York, New York' for this slightly weird and bizarre section although there is an element of humour as I'm chased around a table. But soon the music becomes much more uplifting, inspired by what became my last hallucination. I was in a large crowded atrium and at one end there were stone columns. As people would walk between them to the outside, on occasion a massive block of concrete would smash down between two columns, killing some and thus preventing them from leaving, while others would walk through unharmed. I felt I faced a decision to stay in ICU where I was completely institutionalised, or take a chance on freedom. I chose the latter and lived to tell the tale. (listen)
Take a look inside the recording sessions of Tales from the 15th Floor:
Tales from the 15th Floor is released on 5 October, on the CD When The Light Shines, which is also available as part of the career-spanning box-set Recorded Works, released at the same time, and including also another new CD, Reflections (Aquinas Piano Trio). (listen)
Stimpson is set to mark the 100th anniversary of the death of poet Dylan Thomas with Dylan, a song cycle for baritone and harp, performed by Gareth Brynmor John and Alis Huws in Swansea on 4 November and in New York City on 11 and 12 November. The Swansea performance will be live-streamed.
Details on all the above available at www.michaelstimpson.co.uk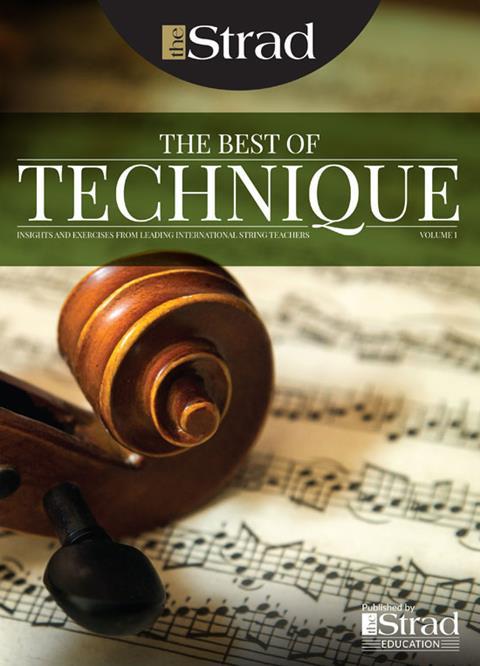 In The Best of Technique you'll discover the top playing tips of the world's leading string players and teachers. It's packed full of exercises for students, plus examples from the standard repertoire to show you how to integrate the technique into your playing.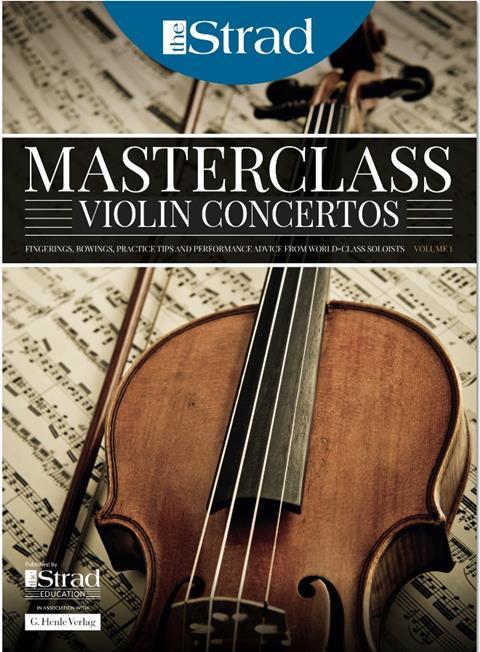 The Strad's Masterclass series brings together the finest string players with some of the greatest string works ever written. Always one of our most popular sections, Masterclass has been an invaluable aid to aspiring soloists, chamber musicians and string teachers since the 1990s.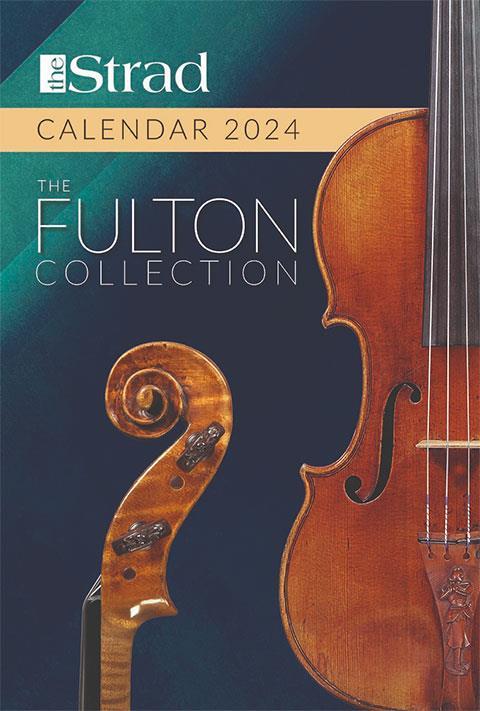 American collector David L. Fulton amassed one of the 20th century's finest collections of stringed instruments. This year's calendar pays tribute to some of these priceless treasures, including Yehudi Menuhin's celebrated 'Lord Wilton' Guarneri, the Carlo Bergonzi once played by Fritz Kreisler, and four instruments by Antonio Stradivari.