Dutch first violinist Amarins Wierdsma from the Barbican Quartet talks to Chloe Cutts about Janacek's string quartets, her very special Guadagnini, and keeping the music playing through the coronavirus lockdown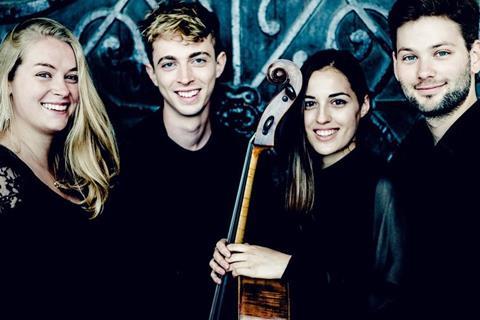 Violinist Amarins Wierdsma, violist Christoph Slenczka and cellist Yoanna Prodanova began playing together at the Guildhall School in 2014, and were later joined by second violinist Tim Crawford. As the Barbican Quartet the four musicians have enjoyed success on the competitions circuit, notably winning first prize at the Joseph Joachim Chamber Music Competition in 2019. They made their Wigmore Hall debut in 2017, and are St John Smith's Square Young Artists for 2020.
Here, Dutch first violinist Amarins Wierdsma talks to us about Janacek's string quartets, her very special Guadagnini, and keeping the music playing through the coronavirus lockdown.
How is coronavirus affecting your activities?
We had a concert scheduled in the Netherlands in March, but it was cancelled just before we were due to leave London and the Netherlands, like the UK, went into lockdown soon after. There were also concerts arranged in London but our violist Christoph, who is based in Vienna, suddenly had to leave because they were closing the borders in Austria. It quickly began to look like everything in London was going to be cancelled anyway.
On the one hand of course this situation is terrible for performers, but luckily we can probably reschedule our cancelled concerts. It's funny how from day-to-day you can completely change your mindset: one day we were thinking it was still fine for us to do a concert, and the next we were thinking that we absolutely should not, because all these people could catch coronavirus from one another.
Many musicians have turned to the internet and social media to keep the music playing
As a quartet we are connected to Le Dimore del Quartetto, an Italian organisation that arranges for young ensembles to perform concerts in historic houses across Italy and abroad. We were in Venice with Dimore right before the coronavirus situation in Italy got really bad. Fortunately Dimore has responded by creating an online initiative whereby musicians share their practice sessions and performances from their living rooms. We are also thinking as a quartet that we could share some recordings we made lately.
How did you come together as a quartet, and what defines your artistic outlook?
We were lucky that the Guildhall School had a great chamber music department, seamlessly run by Alasdair Tait. We had lessons with him as well as with Levon Chilingirian, David Waterman and David Takeno, among others. For the first two years our second violinist was a Moldovan player, Ionel Manciu. We've now been playing for three years with our current second violinist, Tim Crawford.
It's always been clear to us that while we want to play with one voice, it's important that our four voices have something to say by themselves. It's good to have different opinions and aspirations. At the moment we're not so much focused on defining ourselves by our repertoire; instead we are really enjoying everything from Haydn to Ligeti and Dutilleux, and in particular working with contemporary composers such as John Casken, James McMillan and Benjamin Graves.
What repertoire are you working on currently?
We're learning a lot of new music alongside core repertoire, an approach that gives us a broad range of music to take along to competitions. Currently we are working with cellist David Watkin on Haydn quartets from different periods: opp.20, 50 and 77. We are interested in how Haydn's quartets evolved from the beginning of his output to the end, and David has worked with us on technique and on broadening the way we play within that world.
We are also starting to learn, first by ourselves and soon with our current teacher is Günter Pichler, Ligeti's String Quartet no.1 'Métamorphoses nocturnes'. Although it's possible to decipher the score relatively easily, we have found it helpful to listen to recordings by the Belcea Quartet, Hagen Quartet, Arditti Quartet. With Haydn our process has been the opposite: we listen to recordings to an extent, but the approach is more focused on reading the score and trying to find our own way without the influence of recordings.
Recently we had a lesson in Janáček's string quartets with Pavel Fischer at the String Quartet Biennale Amsterdam 2020, which ran in February. Fisher was first violinist with the Škampa Quartet and has a direct lineage to Janáček because the quartet had been taught by Milan Škampa, who was a renowned Janáček interpreter and spent his life talking to people who knew the composer. Because Janáček did not consider that his quartets would be performed after he died, there is little specific instruction in the score. The Barenreiter edition is therefore very clean, but there's also a Škampa edition, which has far more information. Then there are the programmatic elements within the music – Quartet no.1 is based on the Tolstoy novel Kreutzer Sonata, which is many-layered – and working with Fischer has been illuminating because he understands how the music ties to points in the story.
How important is competition success?
Competitions are very good for learning the standard repertoire. We try to give ourselves at least a year between competitions in order to learn a block of repertoire. Prize money and concert opportunities are obviously useful, especially at this point in our career when we have to invest time and money into building networks and paying for flights and competition fees. On the other hand, tying your worth into whether you win or lose a competition can be quite dangerous, especially if you think you did so well and you didn't get the place you expected.
How did you come by your Guadagnini violin?
I have a Guadagnini from 1764 on loan through the Dutch Instrument Foundation, which loans instruments mainly to Dutch nationals or musicians based in Holland. A year and a half ago the foundation got in touch because they had acquired the instrument through another foundation and were looking for someone to play it. I was very lucky because the 'click' was there immediately. I was looking for something that had warmth and depth as well as 'brilliant' qualities. One of my earlier instruments was a Nicolas Lupot, which had a beautiful, dark quality but without the higher brilliance. This Guadagnini has both: the E and A strings have a beautiful singing sound, and the lower strings are very full. This combination works very well within a quartet. It's a beautiful instrument.