The cellist succeeds Greg Sauer, who has left after eleven years with the group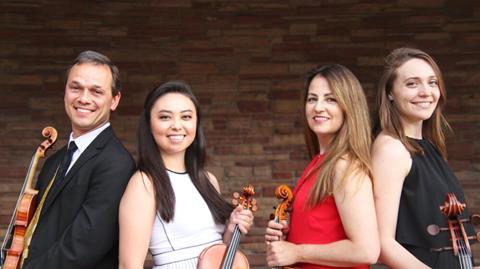 The US-based Carpe Diem Quartet has announced that Ariana Nelson will join the group this autumn. She will take over from Greg Sauer, who has been with the quartet for eleven years. Nelson, is currently a member of the Houston Grand Opera Orchestra and teaches at Texas Southern University. She studied with Darrett Adkins at the Juilliard School and also regularly performs with the Houston Symphony and Houston Ballet. She is a core member of the new music collective Loop38.
The Carpe Diem Quartet's repertoire comprises classical, gypsy, tango, folk, pop, rock, and jazz-inspired music. It has been awarded five transformative grants from the PNC Foundation for their community outreach in Central Ohio.
Read: 8 pieces of advice for happy string quartets
Read: The harmonious string quartet - a balance of four personality types
Read: 7 tips on starting a quartet – and keeping it going long-term
'This past spring, Greg Sauer made the very difficult decision to resign his position from the quartet,' the quartet said in a statement on their website. 'This was owing to the challenge of balancing the quartet's demanding schedule with the complexities of family life. It is an understatement to say that he will be missed. Despite the challenges of Covid-19, we serendipitously had the chance to meet, rehearse, and perform with Ariana in July and August. We are excited to welcome her into the Carpe Diem family and look forward to performing for you in Columbus in the coming months!'
Reference
A graduate of The Juilliard School, where she studied with Darrett Adkins, Ariana