Early public exposure and adulation can overwhelm highly gifted youngsters. Catherine Nelson talks to expert teachers about how they help prodigies cope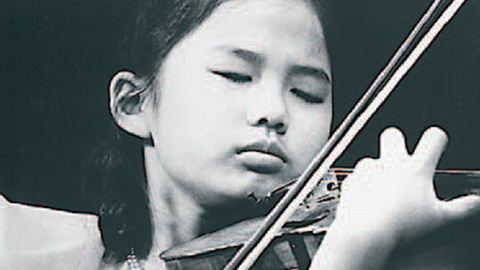 This month we're remembering musical groundbreakers, including violinist Joseph White, whose debut with the New York Philharmonic in 1875 made history as the first time a black soloist had appeared with that orchestra. Read about White's historic debut in our June 2021 issue.
The following article about musical prodigies first appeared in The Strad's April 2009 issue.
What exactly defines a prodigy? Nicolas Chisholm, head of the Yehudi Menuhin School in Surrey, explains that it has some strange connotations: 'Prodigy is a dangerous word – it derives from the Latin prodigium, meaning "monster!' Rather than over-using the word, Chisholm talks more in terms of children being very talented musically, and offers some key pointers in determining whether a child comes into this category: 'Musically gifted children have an unusual passion for music and the desire to express themselves through music. They will play their instruments for many hours a day and often do not have to be encouraged to do so, as their desire and motivation are so strong.'
Maxim Vengerov is a typical example of this: at the age of seven he would practise for seven or eight hours a day, beginning in the evening and sometimes carrying on until 4am, and would then go out and play on his tricycle in the snow. By this stage he could already play the Mendelssohn E minor Concerto and Lalo's Symphonie espagnole.
There are many success stories of players who, like Vengerov, were hailed as prodigies and went on to build great careers as adults – including Nigel Kennedy, Hilary Hahn, Midori and Sarah Chang (pictured). But there are also horror stories, such as that of early 20th-century Polish violinist Josef Hassid. Hailed by Carl Flesch as the greatest talent he had ever encountered, Hassid made his first public appearance in 1932 at the age of eight and came to London at fifteen. There he gave concert performances and made recordings for HMV, but he suffered a nervous breakdown at 18 and was diagnosed with schizophrenia. He was given a lobotomy at the age of 26 and died in the same year.
Hassid is an extreme example, but public exposure and adulation at an early age can prove overwhelming. Gifted young players need very careful handling if they are to fulfil their musical potential but also develop into well-rounded adults. Itzhak Perlman spoke recently in the New York Times about Dorothy DeLay's approach, which was to ensure that her pupils' range of interests extended well beyond their chosen instrument. 'She would look for what else you do, besides the violin,' he said. 'Do you go to concerts? Do you go to operas? Do you go to museums? Are you a broad sort of a person?'
Catherine Cho is on the faculty of the pre-college division of New York's Juilliard School, which takes very talented children from as young as seven years old. She echoes DeLay's sentiment. 'One of the most important things is that we help students to build a solid foundation as a player and as a person,' she says, 'so that this amazing talent does not get killed or squashed by being thrust into the limelight too soon. It's vital for them to participate in school in a meaningful way in maths, science and literature, as it enriches their soul in the way that they need. They need to be thinking about their own growth and development, as they will need to really dig deep into themselves to become great musicians. It's so easy for young players to burn out – they deserve a childhood and the time and space to grow.'
This notion of protecting young players from overexposure is a relatively recent idea. At the beginning of the last century, when education did not continue much past 13, teachers left players to sink or swim in a professional career from their early teens, as historical expert Tully Potter explains. 'Mischa Elman was the first real prodigy and he was enormously influential. Leopold Auer said he had never heard a sound like his before this four-year-old played to him. But Elman suffered all his life through not being properly educated. Szigeti, too, did not have a teacher past the age of 12 or 13, and was making records by the time he was 16.'
Read Joseph White: Making History
Read Violinist, 5, awarded distinction in grade 8 exam
Watch Earliest video of Sarah Chang
Self-esteem can suffer when young players feel under a lot of pressure, as Chisholm explains. 'Even though it is evident to peers and teachers that an individual is very gifted, a young person can often be so blinded by their desire for perfection or for parental or teacher approbation that they find it hard to believe in their giftedness. The desire for perfection can also lead to "tunnel vision†, where the young person cannot see the value in studying anything other than music to the detriment of academic excellence or even socialisation.'
Cho agrees. 'Low self-esteem is very common among high-achieving musicians. Their expectations of themselves can be unrealistic – it's our job to be objective. My advice to teachers would be that as well as advising students on improvements they can make, you should also tell them exactly what you enjoyed about their performance. They need constant reminding about why they're wonderful.'
When self-esteem is such an issue, can competitions be too much of a risk? Cho says she keeps an open mind. 'They can be useful, depending on the individual. There could be a student who needs an outlet in public, and a competition can be a useful performance opportunity. But if a student is just entering in order to win, I don't encourage them to do that.'
Julian Rachlin is one player who, although the pressure on him became too much at one stage, went on to become a great artist later in life. He won the Eurovision Young Musician Competition at 14 and had a stellar career for the next five years, releasing three acclaimed discs for Sony Classical. Then at 19, he began to falter. 'I got to a point where I couldn't cope with the pressure of expectations,' he says. 'People are expecting sensational things of you because that's what you've done in the past and you can't live up to it. When you go on stage, of course you have to be full of respect and humility and modesty, but you have to also feel very confident about yourself, and I didn't feel that way.'
Rachlin felt he needed to get far away. 'For me it was quite symbolic – I went to study with Pinchas Zukerman in America. There I was not so well known – I could just be a normal student. The two years I spent there were very important to me, to find myself. People like Rostropovich and Lorin Maazel were very supportive in those difficult years of my crisis. They were always there to help and advise, and to give me the feeling that they believed in me. This was the reason I could come back, though in a more mature way and with a slighter thicker skin!'
A young player's drive to succeed is just part of the story: the role of a musician's family also has a tremendous bearing on their development. The cliché of the pushy parent living through the glory of a child's success is something Chisholm guards against. 'At the Menuhin School we do have a desire to point out the pressures that the children are under to parents. Some parents can see that their child has good qualities but might need to work at others; other parents wouldn't believe that their child is anything less than perfection. Some parents can't separate their child's success from themselves – they enjoy the adulation vicariously, so if children don't get on, it can be tricky.'
Cho is equally convinced of the need to get parents on message. 'Parents, teachers and peers all need to work together as a tribe to nurture and support each other, to not be competitive. We need to stick together. If we get competitive we segregate each other. We have to look at ourselves as a whole – it helps us to feel less alone.'
The tendency for gifted children to compare themselves, perhaps unfavourably, with their peers is another area that needs to be closely monitored, and Chisholm feels that specialist schools themselves can play a big part in avoiding these comparisons. 'A perceived lack of opportunities for performing or taking part in masterclasses, or even the irregularity of instrumental lessons can be misconstrued as a comment on ability.' One example of how the Menuhin School avoids such implied comparisons is in the school orchestra – children are moved around the ensemble from the front desk to back desk or to the second violins or viola section.
Emotional issues aside, how can teachers best help gifted players in their technical and artistic development? Cho outlines the importance of practising correctly. 'It's really important that players learn to think for themselves and find their own musical voice, something that can start at 9, 10 and 11. When they feel accomplished and successful through their practice they don't need help with motivation, and their self-esteem rises very quickly.'
Cho's advice on the amount of practice a student should do depends on the number of years they have been playing. 'But as a rough guide, by the ages of seven, eight and nine, half an hour to an hour a day of focused practising is plenty. From the ages of nine to eleven, that could increase up to two hours. And with my students I advise them to do their practice in twenty-minute segments with a five-minute break in between those segments. And we always stretch and do a quick cardio warm-up before they practise so that they don't have any tension when they're playing.'
For Rachlin, who since 1999 has taught at the Vienna Conservatoire, the key to realising a gifted young player's potential lies in their development as a well-rounded musician. 'I was brought up very much in the Russian way, drilled as a soloist for hours and hours. But at the end of the day you can feel that the soloist, however fantastic their playing, does not know how to communicate with the orchestra.' His solution is to instil in his students a love of chamber music. 'With a soloist who has soaked up a lot of chamber music you can really feel the connection between the player and the orchestra. I make sure that my violin students also play the viola. When you play viola in a string quartet, you start listening to all the other parts, seeing how the music works. You start to develop a really powerful musical spirit.'
Rachlin has some stern words for parents and teachers of prodigies. 'Of course it's important for a child to have a wonderful teacher and to practise hard, but that child has to have a normal childhood, like I did – going to the cinema, having fun at parties, all those things. They have to be allowed to be a normal human being.'
Read about Joseph White's debut with the New York Philharmonic – the first time a black soloist had appeared with the orchestra in The Strad's June 2021 issue.