Travis Wong Kai Xuan, from Singapore, could barely read or write when he had his first violin lesson at the age of three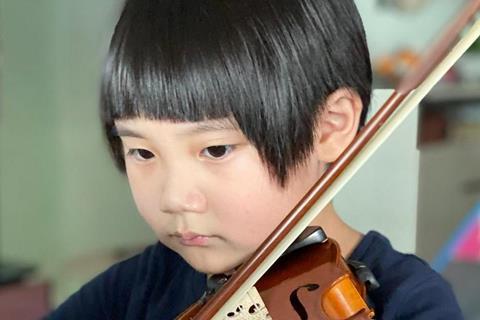 Travis Wong Kai Xuan, a 5-year-old Singaporean boy, has gained a distinction in his ABRSM Grade 8 exam.
Kai Xuan, who started learning the violin when he was 3 years old, was still barely able to read or write when he submitted his video to the ABRSM online portal.
According to his teacher Jayne Lee, he often jumps and clowns around to his playing, enjoys composing his own music and probably has perfect pitch. His mother attends every violin lesson with him and assists in his daily practices of at least an hour or more. Lee also explained that Kai Xuan did not have to complete the Grade 5 Theory test, normally a necessity for students taking Grade 8, as the ABRSM waived the requirement from 1 January to 30 April due to Covid-19 restrictions.
Watch TwoSet Violin react to 2-year-old prodigy

Watch A nosebleed won't stop plucky prodigy Christian Li
Read How to nurture a musical prodigy