'When you're ready...' These three little words needn't chill your spine in the audition room; Joanne Talbot asks the examiners what they're looking for when you stand in front of them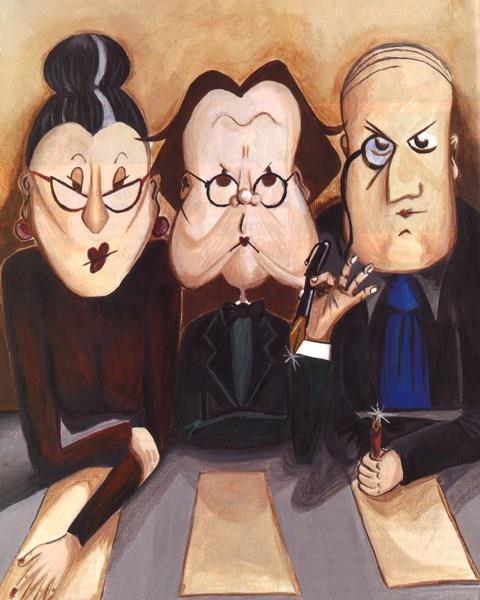 Walking through the door to an audition can be a daunting prospect, not helped by a swimming floor and a panel of terrifyingly severe, bespectacled faces equipped with lethal-looking pens. Perhaps staying in bed might have been a better idea? If only that nasty little passage of thirds and octaves had been more carefully prepared and - dear me - what about that F sharp minor scale in zillions of octaves?
Contrary to such preconceived visions, the audition panels are not there to catch you out or treat you to an interrogation. Nicholas Pendlebury, head of strings at Trinity College of Music, London, is at pains to emphasise this. 'There is a tendency to panic when a student sees a panel with pens and paper in front of them, but our whole ethos is to make it a friendly experience. This is also an advantage for us because we hear people playing at their best, and from their point of view it turns the whole audition into a positive process. Even if we don't offer a candidate a place, we always provide advice, so that everyone learns something. You can tell a lot about a student the moment they walk through the door - even the way they tune up reflects their state of confidence. Doing an audition is about the whole delivery, from walking in the door to walking out.'
But what are music colleges looking for today? To a large extent the answer to this lies in the qualities that music colleges perceive to be necessary for earning a living in the profession.
Almost unanimously institutions value musical and personal flexibility. David Harvey, registrar at London's Royal College of Music (RCM), confirms the entrepreneurial qualities necessary for a livelihood in music. 'These days there's not so much room for star players: you need to be an all-rounder. Our whole raison d'être is to place people in the profession. Outreach work and degree courses require the ability to convey ideas, and if you're inarticulate you won't be able to cope with either. There are other aspects a teacher may not have mentioned, such as the ability to be organised. A professional musician has to be able to manage a diary, finances and tax affairs. Above all, you need to sell yourself as players and people who will fit into college life.'
Other pieces of advice might sound blindingly obvious, but even the obvious needs to be stated when one's whole focus is targeted on those few bars in a concerto which are proving intractable. Make sure that your instrument is properly set up and your bow works. Don't go into an audition with tatty jeans and a Nirvana t-shirt rolling around your waist and don't forget that trains might be cancelled - especially as most auditions take place in the winter months. Do, however, allow at least half an hour to warm up on your instrument. Rodney Slatford, head of strings at Manchester's Royal Northern College (RNCM), advises: 'Look the audition panel in the eye and don't pretend you've done everything already, because you almost certainly haven't. A degree of humility is always appreciated.'
Aside from the basics, there's a quality audition panels throughout the world are looking for. It's a hard quality to pinpoint precisely, but it concerns the ability to make your mark. Lewis Kaplan, from the Juilliard School in New York, explains: 'At undergraduate level we require a very high technical level of playing, equivalent to international competition standard. lntonation must be very sound and we must feel that there is potential to grow. Ten minutes is a short time, so you must have a point of view - something to say. We're looking for original thought, and for an innate musical quality coming through. Over the last couple of years globalisation has been an enriching factor at Juilliard with pupils coming from Russia, the Balkans, Bulgaria and China. But the school is pretty tough on English as a second language. If a student rates highly in performance but is poor linguistically, they will be given one provisional year but will be expected to score a high result in English as a foreign language tests. Our whole Philosophy is that for the 21st century a musician must be broadly based, not just an instrumentalist.'
Brian Hawkins, head of strings at the RCM, reiterates this: 'Above all we must be seeing them communicate the music. Inadequate levels of technical competence, or if a student has been taught entirely 'wrong' technique, will contribute towards failure, because one has to remember that there are only four years to put things right. We're looking for people who have brains and awareness. We're good at reading between the lines, and we're looking to see what someone might be able to achieve in a few years' time. We offer a BMus course to every student because it produces more rounded musicians who stand a better chance of getting a job. Our postgraduate studies have two major strands, one focusing on orchestral studies, the other oriented towards solo studies and chamber music. For entrance at postgraduate level we would expect an advanced concerto movement, performed at a near-professional standard. At the end of the day the rule of thumb is whether one would be prepared to pay to hear the performance.'
While the whole auditioning process has generally become more humane, there's no desire to take students who are inadequately equipped to cope with the courses offered. Jean Harvey of London's Royal Academy of Music (RAM) explains: 'If the student can't play well we don't want them, and I mean that in the kindest possible way. There are the obvious things one looks for such as quality musicianship that exists beyond what has been taught. Any physical problems such as stiff bowing and awkward posture are possible to overcome, but we have to hear that the musical talent is there to deserve further training at college level.
'Postgraduates have much less time and so we are expecting a more advanced approach personally as well as musically. Reasons for rejection at this stage might be very simply because the playing has not shown the technical or musical quality considered to be necessary. The candidates need to be tough and bright and demonstrate perception. They need to suggest that at each lesson they will absorb information.'
A tricky decision is whether to bring an accompanist. The RCM prefers you to arrive with your own, particularly if the piano parts are taxing, as it suggests that the preparation as a performance has been more complete. Conversely, Rodney Slatford at the RNCM prefers the staff accompanist to be used. 'This is the first step into adulthood. It's better to let them get on with it.'
Stephen Geber, principal cellist in the Cleveland Orchestra and also on the faculty at the Cleveland Institute of Music (CIM), emphasises that the candidate must show motivation. For example, if someone has done very badly during their school career it might suggest poor application. 'Of course ,' he continues,'the personal qualities necessary for chambcr music and orchestral training go hand in hand. You need for example to be sensitive to nuance, highly motivated and very good tecllnically.'
How best can you prepare for the gruelling day? When it comes to selecting reportoire, make sure you scrutinise the often very different requirements for each college. For instance, some institutions demand studies and hear scales as well as setting repertoire, and their requirements may change from year to year. However, unless specifically set for the auditions - as in many of the US colleges - Bach is seen as a controversial choice due to polarised opinions on appropriate performance styles. The own-choice work needs to effect a judicious balance between demonstrating your technical command while not being so difficult that it reveals what you cannot manage. Hence playing a Paganini concerto is only a good idea if you can really bring it off. At undergraduate level, providing that the basic technique is secure and relatively advanced, finer pyrotechnics of the fingerboard can be accrued over the course.
Ian Jewel, head of strings at the UK's Purcell School of Music and also on the faculty of tlle RCM, is ideally positioned to see both sides of the coin. Much of his time is devoted to preparing students for colleges both in the UK and throughout the world. 'lt's best to choose repertoire that shows all sides of musicianship, encompassing both virtuosic and expressive aspects of one's playing. For example , if a particular college asks for the Hummel Viola Sonata, I'd suggest the Walton Concerto to go alongside. Good preparation is essential and it helps if you can perform the selected works as many times as possible in public before the audition. Sight-reading is very important for assessing what people can achieve outside the practice room without copying their teachers. These days colleges are looking for people with initiative, so you need to be able to talk well atnd express what you want to do and how you see yourself making a career.'
Sight-reading is not always tested; increasingly a study piece is being sent out a month beforehand to assess how students prepare and perform in a set time. The idea behind this is to put candidates on a level playing field, although of course some will have more help than others in effecting the preparation. However dull the piece might appear, the successful candidates will maximise phrase characterisation and dynamic variety, and project atmosphere (note that accuracy is taken for granted). Scales are less frequently heard than one might expect although again the RAM likes to see if they are part of the practice routine. If a candidate's technique is in doubt, many colleges will refer to them as a way of quickly assessing their strengths and weaknesses.
But for those already at a high level, what can music colleges offer? For players who are already highly advanced we will be looking to broaden their experience,' says David Strange , head of strings at the RAM, 'and a change of teacher will alter their perspective.'
As every student knows, the music profession is tough and unpredictable; many are called to the vocation. Few are chosen. But the general consensus of opinion is that providing that the level of preparation has been both systematic and rigorous, talent will out in the end. So, good luck!
This article was first published in The Strad's September 2000 issue.