The 13th Winter International Arts Festival in February presented no fewer than seven world premieres, a Beethoven sonata marathon and a double bass extravaganza, writes Peter Quantrill, who met artistic director Yuri Bashmet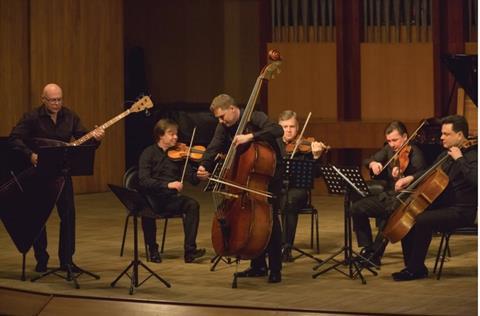 A Russian riviera would have Sochi as its Monte Carlo, stretching lazily along the eastern Black Sea coast, prettier to look out of than into, delivering cloudless blue skies even in mid-February while the UK was sheltering from Storm Dennis. Icing-sugar-roofed hotels line the beaches, and the city centre is stacked with upmarket boutiques. There are deep pockets around here. Yuri Bashmet acknowledged generous state support for his two-week Winter International Arts Festival when I met him for a quick chat on the terrace of one of those hotels: 'All good festivals cost serious money.'
Now in its 13th year, this one also runs a busy academy, attracting instrumental, vocal and composition students and professors from around the world. You might sum it up as a Russian Verbier, I suggested to Bashmet, who is himself an old hand at the star-packed gathering in the Alps each summer, and a friend of its founder, Martin T:son Engstroem. 'Martin is a very talented man, and a great manager,' he replied. 'I hired the conductor of his academy orchestra to work with me here. And he decided to start up a junior orchestra of younger musicians because I was doing it here. So I would modestly say that we have learnt from each other!'
However, as Bashmet pointed out, Sochi is a younger festival, it doesn't attract the same crop of musical celebrities, and there are other differences. 'We are not afraid of modern music and world premieres. We're always trying to take the temperature, not of the climate today, but of the future: we want to be artistic forecasters.' This year seven world premieres were scheduled, several in the festival's closing concert, and Bashmet is admirably sanguine about their chances of survival. After all, not every new work can be a masterpiece like Schnittke's Viola Concerto, among the most durable of the works Bashmet's own playing has inspired.
'Exactly: we have to commission them first,' he said. 'If I don't get a masterpiece, I don't feel tragic about it. "The process is the result," is how I put it. I was waiting nine years for Schnittke's concerto. My genius teacher Fyodor Druzhinin received the Viola Sonata from Shostakovich. The works I commissioned from Schnittke, Kancheli, Gubaidulina and Alexander Tchaikovsky are the best presents I have ever had in life, apart from my parents and my brothers.'
Alexander Tchaikovsky is another larger-than-life fixture at the festival. This year he contributed a new 'choral opera' based on the story of two brothers, Boris and Gleb, who became Russia's first Christian saints. An experienced theatre composer (but no relation of his illustrious predecessor), he built a pacy, hour-long drama from the unlikely combination of a speaker, two countertenors, a small orchestra – with a prominent part for Bashmet, of course – and the immaculately drilled members of no fewer than six choirs from across Russia, who gave a forceful demonstration that the long tradition of massed singing, and the voice of the Russian people as a single, downtrodden entity, is alive and well.
Would Tchaikovsky's opera survive as more than a pièce d'occasion? 'Only time will tell,' Bashmet admitted. 'More than 50 pieces have been dedicated to me. I would say only five of them remain in my regular repertoire. Rostropovich once told me, "Play and commission as much new music as you can. For every ten pieces you commission, three will be really professional works, and maybe one will be a masterpiece. As for the rest…"'
Our chat was necessarily curtailed, and not only by Bashmet's many media commitments: in order to meet him, I had dashed to the hotel in the middle of a six-hour 'Beethoven marathon' featuring sonata performances by several of the country's most talented young musicians.
In the first Beethoven concert, Elizaveta Ukrainskaya, a pianist mature beyond her years, had supplied a lively foil to Vasily Stepanov, self-effacing but stylish in the Cello Sonata op.5 no.2, and to Anna Savkina, more extrovert and rhythmically supple in the Violin Sonata op.12 no.2. To my pleasant surprise, none of the string players that afternoon seemed tied to a romantic school of Beethoven interpretation: all have learnt from the period-instrument revolution and accordingly played in gracefully curved phrases with lighter bowing though no lack of feeling. I was especially taken with the violist Andrey Usov in the rarely encountered op.42 Notturno, and the questing musical intelligence of cellist Kamil Mukhametdinov in the C major Sonata op.102 no.1.
The Beethoven marathon took place in the city's attractive wood-panelled Organ Hall, which also hosted daily afternoon chamber concerts. I returned the following day for an all-Armenian recital given by the Khachaturian Trio, and counted myself lucky to hear Karen Kocharyan, an aristocrat among modern cellists and a rare throwback to Daniil Shafran. The gem hidden within the mostly Soviet-era, retro-romantic repertoire was the imposing F sharp minor Piano Trio by Arno Babajanyan (1921–83), which would be welcome as a replacement in concert for the elegiac trios of Rachmaninoff or Tchaikovsky once in a while.
The next day, Dances with the Double Bass was a more erratic affair, centred round the undoubted talents of Artyom Chirkov, often partnered by Mikhail Dzyudze on contrabass balalaika. Hoarse tone and slightly wobbly intonation all seemed part of the charm in arrangements of Baroque potboilers, before Chirkov showed astonishing agility in Bartók's Romanian Folk Dances. Two string quartets came and went, much the better of them being the Taneyev Quartet from St Petersburg, and even without an interval the programme straggled on so that I missed the start of the day's main evening event in the city's Winter Theatre.
The theatre is the venue for Bashmet's most experimental fusions of art forms. On my first night there he had led his own Moscow Soloists as a backing ensemble for an actor reading letters from Vincent van Gogh to his brother Theo; there followed a new ballet with Natalia Osipova, Tchaikovsky's choral opera and an opera gala of young international singers, all applauded by a mixed crowd, mostly local, sprinkled with people under 40 as well as students from the academy.
The festival began in 2007 with a single concert, then expanded 'like an improvisation', Bashmet said to me. That seems to be the secret of its success: 'People here know that each concert will be a surprise.'
This article was published in the June 2020 Tetzlaff Quartet issue

The Tetzlaff Quartet members discuss balancing chamber playing with busy individual careers - and recording their first Beethoven album after 25 years together. Explore all the articles in this issue.

More from this issue…