The American musician discusses performing concertos with conductors and how she navigates interpretative disagreements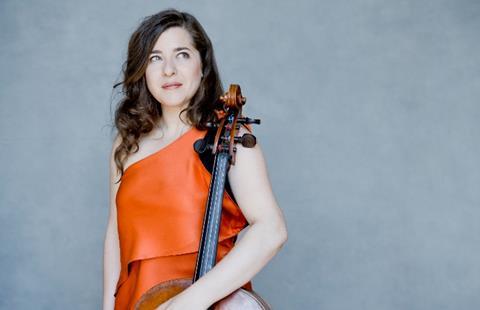 The following is an extract from The Strad's feature on the relationship between soloists and conductors in our June 2020 issue. To read in full, click here to subscribe and login. The June 2020 digital magazine and print edition are on sale now.
Alisa Weilerstein, US cellist
The vast majority of my interactions with conductors have been a pretty harmonious exchange of ideas, but when the push and pull happens – either collaboratively or in a more difficult form – it tends to be in the standard Romantic repertoire, where people are set in their ways. A good example is the second theme of the Dvořák Cello Concerto first movement. The tempo as written in the score is quite flowing, but often the old recordings don't adhere to that. That's fine, but I have a different idea, which has often meant discussions with conductors, particularly of an older generation. At this point, sometimes I've just had to park my instinct and play in a way to match their feeling for the music, which can mean changing certain techniques to make the phrasing work so that I can play it honestly. However, with a more flexible or willing partner we've been able to reach a compromise – perhaps settling on a tempo that falls somewhere in the middle; or a different way to connect the episodes, given that my thinking comes from a desire to create more cohesion when a danger of this piece is that it can sound like episode after episode. Indeed, when I've explained exactly why I'm thinking of a tempo in a certain way, I've found much more willingness.
Very often, though, I've found that the less one talks the better. For instance, often in the initial meeting the conductor has the score with them and practises conducting, trying to lead me somewhere I don't want to go. Sometimes just making eye contact, showing very clearly what your idea is with body language, allows you to make your argument without even having to use words – in the same way that players in a great string quartet communicate with one another.
Read: Sentimental Work: Alisa Weilerstein on Mozart's Don Giovanni
Read: Alisa Weilerstein's top 5 tips on maintaining a natural stage presence
The best advice I got when I was starting out was to approach playing a concerto as one would approach playing chamber music, including treating the conductor like an equal partner. That was a daunting idea when I was a 14-year-old sitting opposite a 60-year-old, when quite often I could smell thoughts such as, 'Why do I have to work with some kid who doesn't necessarily know what they're doing or who has been pushed into this by pushy parents or a pushy agent?' However, I usually found that when I'd played and interacted with them, that attitude would melt away. Then it goes without saying that you need to turn up prepared and knowing all the orchestral entrances; and personally, I found that knowing even the rehearsal numbers off by heart was helpful, so that precious rehearsal time wasn't wasted. Showing an openness to learn was also very important. So even if I didn't necessarily agree with what was being proposed, I would try to integrate it, remembering that I didn't have to do it next time if it didn't work for me – as you would in a masterclass. If a new idea is proving difficult to integrate under someone's waiting gaze, you might also sometimes say, 'Can I take this away and unpack it overnight?' I would do this with Daniel Barenboim, and he was always happy with that.
The chamber approach played a crucial role in my only really bad experience with an unbudgeable and misogynistic conductor. In fact, when you treat it like chamber music on a large scale, an unbudgeable soul can end up unconsciously going along with you; it never helps to put up a wall and ignore them completely. On that occasion, interacting with the concertmaster also helped me. In some of my best exchanges with concertmasters they've really been able to bring everyone together.
This article was published in the June 2020 Tetzlaff Quartet issue

The Tetzlaff Quartet members discuss balancing chamber playing with busy individual careers - and recording their first Beethoven album after 25 years together. Explore all the articles in this issue.

More from this issue…