Following 2020's Summer Season of broadcasts, this year's Sun Valley Music Festival returned to free live performances, much to the delight of its thousands of fans, writes Laurence Vittes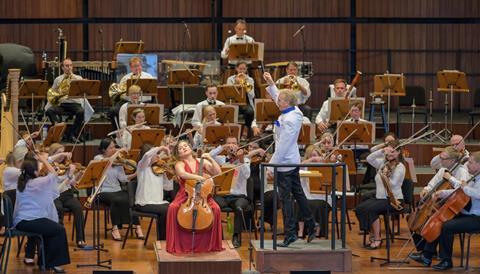 Although the ski and summer resort area of Sun Valley, Idaho, is noted for the rich and famous celebrities who have been flocking here since the 1930s – from Ernest Hemingway and Marilyn Monroe to Oprah Winfrey, Tom Hanks and Matt Damon – it boasts a thriving cultural life, including the Sun Valley Writers' Conference and Sun Valley Film Festival, and the brand new state-of-the-art Argyros Performing Arts Center. And then there is the 37-year-old Sun Valley Music Festival, led by music director Alasdair Neale, which draws 50,000 concertgoers annually to its free Winter and Summer Season events.
After reinventing its 2020 Summer Season – with 14 original concert broadcasts brought to life by artists and production crews across North America – and receiving $2.8 million in donations to keep the concerts (including the Winter Season performances) free for everyone, the Summer 2021 Season came to full bloom as Covid-19 seemed to be retreating.
During the third of its four-week season, the Sun Valley Festival Orchestra, which bills itself as the largest privately supported, free-admission orchestra in the United States, assembled for three concerts including the world premiere of Jessie Montgomery's Five Freedom Songs, Mahler's Fourth Symphony, and a soaring, searing performance of Schumann's Cello Concerto by Alisa Weilerstein. The heat hovered around 30C and smoke from the Western states' fires filtered the air, but the music making by the hand-picked selection of America's finest orchestral musicians, eager to enjoy the extraordinary pleasures of the Sun Valley experience, was fresh and exhilarating.
Although planning had begun in September 2020, it wasn't until late May that the festival was able to commit to a full 90-piece orchestra onstage in a fully vaccinated bubble for the final two weeks. For the first week, as usual, Neale, music director of the New Haven Symphony Orchestra and Marin Symphony, had played with a Mozart-sized orchestra of 35 to 45 musicians before ramping up to full strength for a gala concert on 4 August in which Joshua Bell played the Beethoven Violin Concerto.
And what a band. The violins alone included concertmasters and assistant and associate principals from the San Francisco, Rochester, St Louis, Louisville, Utah, Buffalo and Alabama symphonies. This meant they could put together world-class performances of complex pieces like the Mahler Fourth and Jennifer Higdon's blue cathedral with a minimum of rehearsals. And that professionalism paid dividends in Weilerstein's Schumann, which was deeply emotional, rhapsodic and spontaneous, to the point where any orchestra and conductor would have been tested – and yet there was not one bar when the orchestra was not with the soloist, despite only one afternoon rehearsal before the 6.30pm performance.
In fact, Weilerstein's Schumann was similar in scope, power and intensity to the world premiere of Joan Tower's new cello concerto she had given two and a half weeks earlier, in the midst of a huge Colorado thunderstorm at the Boulder Music Festival. Titled A New Day, exploring the 82-year-old Tower's love for her 94-year-old husband, and commissioned for Weilerstein by the Boulder Festival and the Cleveland, Detroit and National symphony orchestras, the writing was fast and furious, unabashedly Romantic at times, and fiendishly difficult to play.
Back to Sun Valley, and a strong San Francisco Bay Area contingent of 15 players included the Edgar M. Bronfman String Quartet, the festival's resident chamber group. Composed of members from the San Francisco Symphony, the quartet grew out of an effort in the early 1990s to incorporate chamber music into the season. After cellist Amos Yang joined first violinist Jeremy Constant and violist Adam Smyla in 2010, and prior to violinist Polina Sedukh joining in 2016, the quartet officially changed its name in 2015, in honour of long-time Symphony patron Edgar Bronfman (no relation to the pianist Yefim Bronfman), and embarked on a multi-year Beethoven exploration interrupted by Covid.
The quartet's warm, richly played performances of Shostakovich's Eighth Quartet and Mozart's 'Dissonance' Quartet K465 demonstrated the wonderful acoustics of the Sun Valley Pavilion. Although chamber music is usually played in a smaller hall seating 400, this year the festival took a chance and programmed the concert in the larger space where nearly 3,500 people showed up in the Pavilion itself and on the vast lawn. First violinist Constant, the San Francisco Symphony's assistant concertmaster, discussed with me the rebirth of music in Sun Valley and in the Western states generally, pointing out how 13 members of the Symphony had retired since the first half of the 2020–21 season, allowing new music director Esa-Pekka Salonen an opportunity to more quickly put his personal stamp on the orchestra.
In Mahler's Fourth, Constant had played his 1700 'ex-Heberlein' Stradivari and used his Vuillaume only for the scordatura in the second movement. 'It hurt me so much to have to tune it up a tone that I gave it a month to get used to the extra tension and being played,' he said. The moment the Mahler was over and Constant could get backstage, he returned the Vuillaume to its natural tuning.
Montgomery's Five Freedom Songs, sourced from Slave Songs of the United States published in 1867, honoured the composer's 'African American heritage and the tradition of the Negro spiritual while also experimenting with non-traditional stylistic contexts'. It was a collaborative effort with soprano Julia Bullock and so ingeniously scored for strings and percussion that at times you could hear strong strains of trumpets; in the middle song, 'Lay Dis Body Down', Montgomery, a violinist herself, showed her mastery of strings in an exquisite cello solo.
After leaving Sun Valley, Alisa Weilerstein's adventures continued. Before arriving at the festival she had been invited to replace Pablo Ferrández (visa issues) in Beethoven's 'Triple' Concerto (with María Dueñas and Sergio Tiempo) conducted by Gustavo Dudamel at the Hollywood Bowl; however, she was diagnosed with Covid just after leaving Sun Valley and had to cancel herself (to be replaced by LA Phil principal cellist Robert deMaine).
Meanwhile, Sun Valley's year-round Music Institute continued to advance the skills and personal development of young people. Through the Institute's summer programmes, students had the chance to interact with professional musicians and guest artists, and meet peers who shared their passion for classical music. Year-round programmes also engage high-school string, piano and voice students, in partnership with the local school district. Just another Sun Valley cultural perk.
This article was published in the November 2021 Chad Hoopes issue

The US violinist on making unconventional career choices, and sharing his knowledge with the next generation of players. Explore all the articles in this issue . Explore all the articles in this issue

More from this issue…